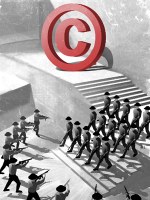 Protecting Intellectual Property Rights. This article by Rohin Dharmakumar was published in Forbes India on January 28, 2011.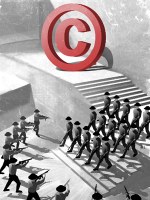 Imagine you are in the mood for some fun and so you create a spoof video, the sort that you find on YouTube everyday. If the changes proposed under the Indian Copyright (Amendment) Bill, 2010 come through, you won't be able to do that.
The bill explicitly recognises the technology protection measures that publishers wrap around their content, commonly known as digital rights management (DRM), but without placing any limitations on it.
So there's a good chance a parody clip that uses video clips from a news show or of a baby dancing to the tune of 'Sheila ki Jawani' could be taken down by over eager copyright owners.
Pranesh Prakash, a program manager with Bangalore-based Centre for Internet and Society, a non-profit civil society policy advocacy and research body, says such a scenario is perfectly possible under the proposed new law. "Providing legal backing to technological protection measures without imposing appropriate duties means that companies can effectively expand their rights to whatever technology can do. It's a ridiculous situation," he says.
Even worse, the law provides for criminal liability for breaking such DRM. Ask the Indian developers behind 'PlayFair', an open source software that allowed consumers to bypass Apple's FairPlay DRM. 
The developers were forced to stop their project even though Apple challenged them under the US DMCA law, which has no jurisdiction in India. They still folded because as individuals they didn't have the wherewithal to challenge Apple in a court.
"Our basic principle is that generally large corporations have the wherewithal to go to court and get orders, but individuals don't. That balance must be maintained in the law, that everything isn't presumptively violative of the law," says Prakash.
Many fear of what might happen when digital rights management actually starts getting protection under Indian law. Raman Jit Singh Chima, a policy analyst with Google India's legal team, says the present version of the amendment is unclear on intermediary liability and 'fair dealing'. Simply put, if a user does something illegal, even the service provider or search site that was used may become liable for the offence. 
"Unless the government or a court of law interprets it otherwise, this could mean users submitting their content for approval before uploading, with approvals taking months due to the volume of information on the Internet," says Chima.
Read the original in Forbes India
here