Untangling the web of India's 'ungovernable' Net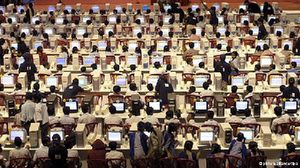 Internet
India sells itself as a tech hub, outsourcing IT experts to the world. At home, it dreams of "equity on the Net." But millions remain unconnected and digital surveillance is on the rise.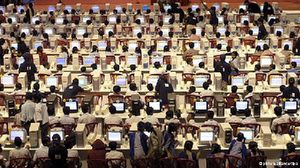 Internet
---
This was published in Deutsche Welle on April 15, 2013. Sunil Abraham is quoted.
---
The Indian government has a dream. It dreams of the "Equinet" - a time when "there shall be equity on the Net."
"The Internet must not just be a platform for the privileged - the Internet must become an inclusive platform," India's communications minister Kapil Sibal says. "In fact, my vision is that the Internet should ultimately become the Equinet. In other words, all those, no matter which station in life they belong to, should have access to the Internet, and that can only happen if all the elements of the Internet are such that people can access them at affordable costs."
India has the third highest number of people on the Net, with about 150 million people connected.
But with a population of 1.2 billion, 150 million is not that many. Internet penetration languishes at around 10 percent, while in the United States and China - the top two countries in world rankings - Internet penetration is at 78 and 40 percent, respectively.
Like in America… in 1994
It's a fact that Google chairman Eric Schmidt highlighted on a recent tour of India, among other Asian countries.
"The Internet feels [in India] like in America in 1994," he says. "It is crucial for India to invest and enable fast fiber Internet connectivity within the country, between the country and the other countries."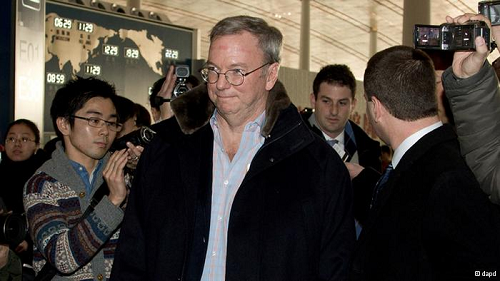 While touring Asia, Schmidt said India seemed to have "rested on its laurels" after early success in the IT sector
You would think that connectivity would be better in India. The country prides itself on being a tech hub, with its centers of excellence in places like Bangalore. It has outsourced information technology specialists globally for over ten years.
Communications minister Sibal insists the government is investing where it can, saying India will connect 250,000 villages with fiber optics in the "next year or so."
"The networks should be in place, the fiber optics should be in place, [connectivity] should be efficient and of high speed, and above all, the access to handsets, which is really the key - unless handsets are affordable and accessible to ordinary people, you will not get the kind of penetration that you want from the Internet," he adds.
However, for some, there are even greater challenges for India than poor connectivity and bad infrastructure.
All eyes on you
In mid-March, police in India's financial capital Mumbai launched the country's first "Social Media Lab."
Mumbai police say they will use it to monitor and track "which topics are trending among the youth so [they] can plan law and order in a good way."
The Mumbai Social Media Lab comes amid concerns over "moral policing" of the Net by Indian authorities, and censorship - especially where comments involve political figures. The Times of India reports numerous requests by authorities to have content removed by Google and Twitter. There have also been arrests under the remit of a controversial section - 66A - of India's IT Act.
Sibal denies India wants to censor the Net. If people have been arrested under Section 66A of the IT Act, it's because police officials have either misread the law, or acted independently, he says.
"Yes, but I would say, from where does this emanate? Does it emanate with a complete understanding at the top?" asks V.C. Vivekanandan, director of the Institute of Global Internet Governance and Advocacy.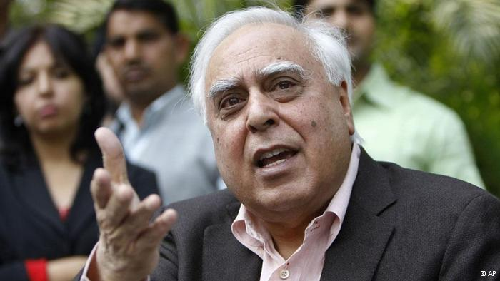 Indian communications minister Kapil Sibal says "Internet governance is an oxymoron"
"There are various, multiple layers of governance in a huge country like India, where people could be enthusiastic in their own way about thinking what is right and wrong," says Vivekanandan. "So, I don't really see censorship as such, but they would like to have discourse in a model which was pre-Internet."
Tracking private lives
But in other areas, India is showing itself to be very comfortable in the Internet age - and where it has its eyes fixed on the future.
"From what I can tell, the social media monitoring cell in Mumbai is perhaps one of the more benign components because it isn't keeping track of private communications," says Sunil Abraham, executive director of the Centre for Internet and Society (CIS) in Bangalore.
However, the Indian government plans to track everybody's online activities - that means anything that uses the Internet as a communication network.
"There are very many other projects like the unique identification (UID) and the National Intelligence Grid (NATGRID) that will keep track of private communications," says Abraham.
The UID is the Indian government's centralized biometric identity management system, which will connect more than 20 databases that 12 intelligence and law enforcement agencies will be able to access.
"These databases include banking records, telecommunications records and travel records [among other things]," says Abraham. "So, it's a very large scale attempt by the Indian government to place citizens under 360 degree blanket surveillance."
Internet governance is an oxymoron
But how these moves square with Sibal's vision of the Equinet is hard to see.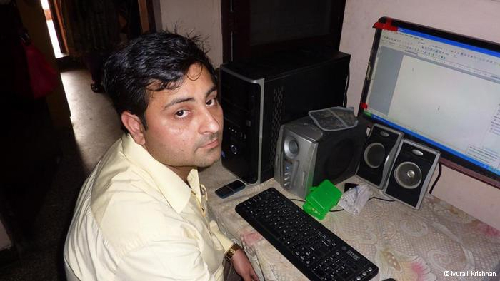 This Delhi laywer, Mohit Sharma, is one of only 11 percent of Indians who are connected to the Internet
The communications minister believes Indians will not be dissuaded from using the Net.
"The fact that 150 million people are on the Net is evidence of the fact that they are not scared, and if you go to Twitter today, there are more abuses on Twitter than perhaps you can find anywhere else in the world," says Sibal.
That doesn't necessarily mean that the government thinks this is a good thing. But Sibal insists he is against Internet governance - in fact, he says "Internet governance is an oxymoron."
"How can you govern something that cannot be governed? Because anybody can say anything on the Net," says Sibal. "So, there should be an element of self-regulation. Just as we interact with each other in civilized society, similarly people on the Net should also interact with each other with self-restraint."
But the CIS's Sunil Abraham isn't convinced.
"If one listens very carefully to what the minister says, he says you cannot regulate the Internet. But you can regulate what citizens do on the Internet," he says. "You can regulate what corporations do on the Internet. And you can also regulate what the government does on the Internet."