Odia #Wikipedia reaches 5000 Article Mark
For the online Odia, something very special happened this week. The ever-growing Odia edition of Wikipedia now has 5000+ quality articles on diverse topics. While many are not aware of the existence of such a Wiki, But Odia Wikipedia has been growing gradually all these years and has become the most searched website and largest online encyclopedia in Odia language.
---
This blog post was published on the brokenscooter on December 22. Subhashish Panigrahi was quoted.
---
Initiated in 2002, Odia Wikipedia saw its first edit in 2004 and suffered from low contribution for almost seven years. But slowly the gloomy scene changed with the first workshop in Bengaluru which started initiating more consecutive Wikipedia training workshops in Bhubaneswar, Cuttack, Nalconagar, Baleswar, Dhenkanal and many other cities. Over these years after many outreach workshops individuals who are experts in different subject areas and organizations and institutions like Indian Institute of Mass Communication, Dhenkanal and KIIT University have been associated with the Odia Wikipedia editor community. After Gopal Chandra Praharaj's Purnachandra Ordiya Bhashakosha and Binod Kanungo's Jnanamandal no such progressive encyclopedic compilation was done in Odia. Where the encyclopedias take years for reprinting which is also negligible in regional languages, Odia Wikipedia articles get revised every now and then.
"This has been possible because of the collaborative writing mechanism of Wikipedia All of us keep editing the articles that refine the content and make it free from biased and incorrect facts.", says Mrutyunjaya Kar, one of the very active Wikipedians. Some time ago noted linguists like Natabara Satpathy and Deepak Kanungo raised questions about the authenticity and writing standards of the articles on Odia Wikipedia. "But I think we have overcome those issues of poor quality content. And the very thing Wikipedia got is the gradual growth of articles in terms of amount of information and accuracy. Something that attracted me to Odia Wikipedia is the way one liner stub articles grow to good quality articles in few days", says Subhashish Panigrahi, Programme Officer to Centre of Internet and Society's Access to Knowledge program that is working for the growth of Indian languages.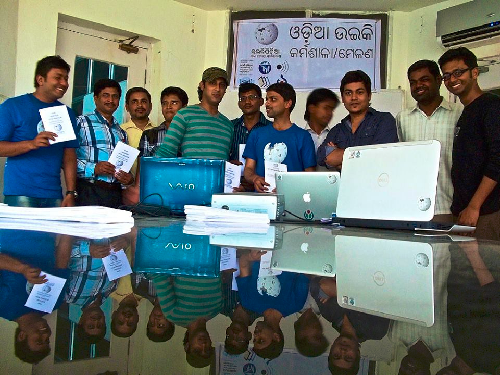 Volunteers and Contributors at a Wiki meet-up.
Many of the valuable aspects of Odisha's history, diverse languages, cultural heritage and tourism are being documented and shared for free on the internet which otherwise would not ever come to the limelight. Available in 286 world languages Wikipedia is edited by more than 77,000 contributors across the world. Odia Wikipedia has only a small community consisting handful of contributors. We aim to reach out to more people to spread the sum of the entire knowledge in our own language, says another active contributor Shitikantha Dash. Odia Wikipedia could be accessed at: https://or.wikipedia.org