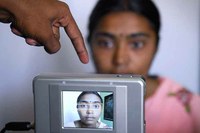 Target iris A woman gets her eyes scanned in the pilot phase of Aadhar, the UID project
In its first steps, the UID drive encounters practical problems, raises ethical questions, reports Sugata Srinivasaraju in Outlook.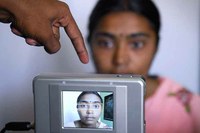 Target iris A woman gets her eyes scanned in the pilot phase of Aadhar, the UID project
Three women are fighting to take one chair in a classroom of a government school in Chelur village, in Gubbi taluka of Tumkur district. One sits on the lap of another and the third tries to push them both off the chair. What all three want is to be the first to be profiled under the Centre's ambitious Aadhaar or unique identity number (UID) project. Their squabbling holds up the documentation by nearly 20 minutes, and the crowd outside, standing in line in the afternoon sun, grows restless. To calm them, the village revenue secretary orders the distribution of another round of buttermilk.
Chelur is one of four villages in the district picked for field trials before the 12-digit UIDs are assigned to people later in the year. Besides Tumkur, the pilot project is simultaneously running in seven villages of Mysore district. Each village has been given a target of 2,400-2,500 profiles to be completed in 20 days. This involves photographing the face, imaging the iris and scanning all ten digits of each person profiled and assigned a UID.
Villagers are enthusiastic about this rigorous profiling process even though there's little awareness about the true purpose of the exercise. This is because of some falsehoods that have somehow spread in these areas. Nagamma, an elderly woman coming out after being profiled, thinks her eyes had been tested and found to be in perfect condition. Another middle-aged woman thought the exercise would bring her a new ration card—one that would entitle her family to an extra four kilos of rice. Some others were in a tizzy that if they didn't undergo this "photography" their BPL cards would be taken away. Most, however, had queued up because they didn't want to be left out of a sarkari exercise their neighbours were submitting to. Of the dozen people Outlook  spoke to, only Muniswamy could tell us that this process would ensure that no one had more than one voter ID card or ration card—the way it should be, unlike some in his village who had illegally acquired two of each.
The village authorities have been doing little to counter the misinformation because their attention is focused on other compelling matters, like meeting the assigned target. This is an important issue because gram panchayat elections have been declared in Karnataka and lots of youngsters set off for campaigning early in the morning and would be difficult to locate for profiling.
According to official figures, Chelur has a population of 5,000, with 3,640 people above the age of 18. A random selection  of 2,400 has been made from this to meet the UID target. The number seems small, but handling it at the village level can be demanding for the local authorities—there's no police for crowd control, refreshments have to be distributed and the computerised work has to be done despite the power outages. Using generators has become inevitable, for the villages get hardly four or five hours' power supply.
Another problem lies in obtaining the fingerprints of rural folk: most of them are engaged in manual labour or farm work and arrive with dirty palms that defeat the biometric reading machines. Pails of water, detergent and towels are provided for cleaning up. Much time is lost in such rescanning and it goes against the official  estimate of five minutes for the young, nine for the elderly.
Prasanna Kumar, the village secretary, admits to the problems. "We did not make an open announcement for the UID pilot because we didn't want to attract large crowds. We quietly prepared a random list of 2,400 people from the ration card database and went door-to-door to invite them," he says. "We have left out people above the age of 80 and under 18. We told people this identity number will help them access various government schemes. Fingerprinting is the toughest problem. Initially people were reluctant, but suddenly they have become curious."
H. Gnanesh, the tehsildar, says the ongoing step is only "concept testing"; the next will be rechecking, in which those already profiled will verify their identity details against what has been stored. Only after that will the UID be issued. In Chelur village, the concept testing ended on May 4;  rechecking began the very next day.
Some NGOs observing the process have noted the lack of awareness in villagers. "They are clueless about what they are taking part in," say Mahadev Prasad and Murthy, of the Basava Seva Trust. Murthy says fingerprinting is a big problem. He speaks of Hommaragalli, in Mysore district, where some foreign experts had to be called in to take a look at the scanning machines.
Then there are larger issues. Away from the surging crowds in Chelur, civil society organisations like the Centre for Internet & Society, the Alternative Law Forum and PUCL have been demanding greater dialogue. In fact, they have even suggested a review of the scheme. They argue there is no clarity on how the government proposes to store and secure personal and biometric data, given the fact that various agencies such as banks, telecom companies and government departments would potentially access it. Security is a huge concern also because the software, hardware and expertise of foreign companies is being used. These NGOs say the UID data, the National Population Registry and the NATGRID, when connected, could prove a grave threat to civil liberties.
"First, a centralised database, like the UID will create, has never been safe," says Sunil Abraham of CIS. "It needs to be decentralised like our various mail servers. Second, we feel the collection of biometric data is happening at the wrong end of the pyramid. Instead of putting the poor through the process first, why not start with those with financial dealings of Rs 1 crore and above. Third, one study says 48 per cent of our people cannot remember a 12-digit ID. Fourth, we need privacy laws in place before the UID regime sets in."
Those problems apart, even raising the level of the current exercise—from small samples of a few thousand each to profiling the billion-plus population of India—could place severe demands on our shaky administration. There's a mountain to be moved.
Read the original article in the Outlook