A beauty's blog creates furore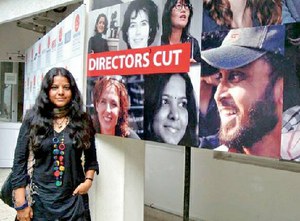 The unperturbed Leena who now lives in London continues her fight for freedom of expression.
Her first Tamil poetry anthology Otraiyilaiyena (As a single leaf) saw three editions and the second one Ulagin Azhagiya Muthal Penn (The first beautiful woman in the world) invited mixed reactions like Iyal Poetry Award and a call for a ban by Hindu Makkal Katchi. Parathaiyarul Raani (Queen of sluts) her third collection was a reaction to all the moral policing.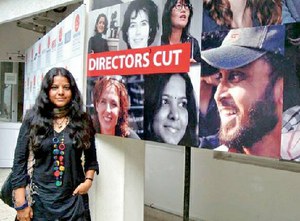 The unperturbed Leena who now lives in London continues her fight for freedom of expression.
Lakshmi Krupa's article was published in Deccan Chronicle on April 10, 2012
While her film Sengadal The Dead Sea was stopped from being screened to the public, until the Supreme Court's Appellate tribunal intervened with regional censor board for the film clearance, groups like the Makkal Kalai Ilakiya Kazhagam attacked her beliefs. Adding to this list is the latest revelation that the Principal Secretary of IT Department of the Tamil Nadu government requested that her blog be blocked along with a host of others.
In a text sent from A.K. Kaushik, Additional Director & CPIO Cyber Laws & E-Security in response to an RTI petition on Website Blocking, it was reported that Leena's blog http://ulaginazhagiyamuthalpenn.blogspot.com was requested to be blocked on 21.07.2010 by the Principal Secretary, IT Department.
This recent revelation has led to an outrage over the fact that artists and activists like Leena have had to constantly knock on the doors of the legal system to exercise the most basic of their rights. In an interview from London where she is currently the Charles Wallace Visiting Scholar at the University of London, Leena says, "Center for Internet and Society in Bengaluru that works towards upholding Civil Liberties Online, had obtained a list of all websites that were sought to be blocked by Governmental authorities with the use of Right to Information Act.
They sent me all the details on how my blog was one amongst them as the Principal Secretary, IT Department, Govt of TN had asked for it to be blocked. As the Internet's role in free speech becomes increasingly prevalent, tactics to control the Internet are growing more refined each year. Methods of accessing private data and censoring content vary between countries, but all maintain an element of oppression. We, who are concerned about civil liberties should wake up to the secret missions of our government on Internet Censorship and protect freedom of speech online."
Leena's blog has been in the center of controversies before too. "Hindu Makkal Katchi, the right wing moral police lodged a police complaint to ban my poetry collections and ban my blog ulaginazhagiyamuthalpenn. blogspot.com. They went to every possible media house and were making threat calls and there were discussions on the alleged obscenity in my poems. They even wanted the Iyal International Poetry Prize and Sirpi Literary Awards to be revoked."

Leena's poetry challenges fanatic minds. "My poetry has a feminist agenda and it is just not about equal rights for women. It is a socialist, anti-institutional political movement which calls for women to break the code, destroy capitalism, live their sexuality and witch hunt every possible patriarchal design. I am not amused about the fact that my poetry gave jitters to ultra blasphemous right and left wingers," she concludes.