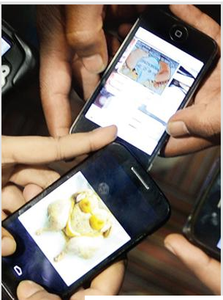 You need not commit these 'offences'. The govt has to just believe you are about to commit them
You can now be arrested in Karnataka even before you commit an offence under the IT Act. You could be in jail under the Goonda Act even if not guilty under the Indian Copyright Act. If govt thinks you are planning to send a 'lascivious' photo to a WhatsApp group, or forwarding a copyrighted song, you can be arrested.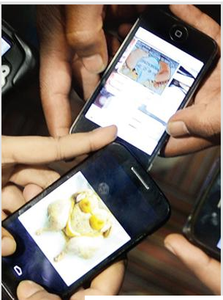 You need not commit these 'offences'. The govt has to just believe you are about to commit them
The article by Shyam Prasad was published in the Bangalore Mirror on August 4, 2014. Sunil Abraham gave his inputs.
---
Have a smartphone? Run for cover. Bizarre as this might sound, the cops are going to come after you if you so much as forward a song to a friend. Forget actually doing it, any plans to do so could land you in serious trouble too. You could be labelled a 'goonda' in the eyes of the State and find yourself behind bars.
In a completely unfathomable move, Karnataka has brought most offences under the Information Technology Act, 2000, and Indian Copyright Act, 1957, under the ambit of the Goonda Act. Until now, people with a history of offences like bootlegging, drug offences and immoral trafficking could be taken into preventive custody. But the government, in its enthusiasm, while adding acid attackers and sexual predators to the law, has also added 'digital offenders'. While it was thought to be against audio and video pirates, Bangalore Mirror has found it could be directed at all those who frequent FB, Twitter and the online world, posting casual comments and reactions to events unfolding around them.
So if you are planning a digital 'offence' — which could be an innocuous opinion like the young girls' in Mumbai after the bandh declared on Bal Thackeray's death — that could attract the provisions of the Information Technology Act. You can even be taken into preventive custody like a 'goonda'. Even those given exceptions under the Indian Copyright Act can find themselves in jail for a year without being presented before a magistrate. Technically, if you are even planning to forward 'lascivious' memes and images to a WhatsApp group or forwarding a song or 'copyrighted' PDF book, you can be punished under the Goondas Act.
The law-makers clearly did not dwell much on the implications while bringing the majority of the populace within the ambit of this law. On July 28, the Karnataka Legislature passed (it took barely a minute from tabling to voice vote), 'The Karnataka Prevention of Dangerous Activities of Bootleggers, Drug-offenders, Gamblers, Goondas, Immoral Traffic Offenders, Slum-grabbers and Video or Audio Pirates, (Amendment) Bill, 2014'. The amendment adds, "Acid attackers, Depradator of Environment, Digital Offenders, Money Launderers and Sexual Predators", to the title. In common parlance, this law is known as the 'Goonda Act'.
The move has come as a shock to the legal community which has slammed it, terming it an attempt by the state to usurp central powers. The government had earlier included 'piracy' under the Goonda Act. But it was applicable only to those pirating film DVDs. Now, this will include books, film songs, music, software or anything big corporates and multinationals claim they have copyright on.
Sunil Abraham, executive director, Centre for Internet and Society, is left in no doubt that the new law is "a terrible thing". "It is a sad development. It is not just bringing the provisions of the IT Act, but also the Copyright Act, that will hurt the common man," he said.
'Digital Offenders' means "any person who knowingly or deliberately violates, for commercial purposes, any copyright law in relation to any book, music, film, software, artistic or scientific work and also includes any person who illegally enters through the identity of another user and illegally uses any computer or digital network for pecuniary gain for himself or any other person or commits any of the offences specified under sections 67, 68, 69, 70, 71, 72, 73, 74 and 75 of the Information Technology Act, 2000."
Section 67 of the IT Act will be the most dangerous for the common man with a smartphone in hand now. The section, "Publishing of information which is obscene in electronic form," includes "any material which is lascivious or appeal to the prurient interest." This could have a very broad interpretation.
Advocate Nagendra Naik says, "The Goonda Act provides for preventive arrest. In the Information Technology Act and The Copyright Act, you have to commit the offence to be arrested. But here, you can be taken into preventive custody even before you commit the said offences. In normal arrests, you can straightaway apply for bail. But under the Goonda Act, you cannot. There is a long process of review and you will be in custody at least till then. The third impact is, you can have a history sheet started against you by the police. Technically, your slips on WhatsApp will attract the Goonda Act against you."
Supreme Court advocate KV Dhananjay said the Goonda Act is a draconian piece of legislation and it necessarily mocks at the institution of courts and lawyers. "After the passage of the various amendments to the Goonda Act, Karnataka now looks like a mini North Korea where police mood swings will decide whether the ordinary citizen has any right at all," he said.
Advocate Shyam Sundar, says, "What if your smartphone has a list of repeated material sent out over days or weeks. Most people do not even know if their phones are affected by viruses which could be sending out such material. Another example is of Facebook. There are so many FB pages with pornographic content. If someone who has subscribed to such a page sends you a friend request and you accept it, that content will surface on your page. It will have a history of repetition. The amendment clearly opens up huge problems for the common people. There is no doubt of the law being grossly misused and the amendment to include provisions of the IT Act has been done without application of mind. What is lascivious appeal in the first place? A porn star has been made a film star in India. Is this not lust? Are there enough filters in place to secure your smartphone from online abuse?"
The new law will in all probability create more corruption than anything else, say experts. Dhananjay says, "Until last week, police postings in Bangalore and other bigger cities were selling for tens of lakhs. Thanks to these amendments, some postings that enforce the Goonda Act will now sell for a couple of crores. The public will not feel safe due to this draconian legislation. Those who enforce the Goonda Act, however, will become richer through corruption, thanks to the fear created by these new amendments."
One year in jail for the innocent too
Sunil Abraham gives two examples by which the amended Goonda Act will become a ruthless piece of legislation. "If I publish an image of a naked body as part of a scientific article about the human body, is it obscene or not? It will not be obscene and, if I am arrested under the IT Act, I will be produced before the magistrate within 24 hours and can explain it to him. But now, I will be arrested under the Goonda Act and need not be produced before a magistrate for 90 days. It can be extended to one year. So for one year, I will be in jail even if I have not committed any wrong. Another example pertains to bringing offences under the Copyright Act under the Goonda Act. In the Copyright Act, there is an exception for reporting, research, educational and people with disability. A visually impaired person, for example, can, without paying royalty, convert a book into another format like Braille or audio and share it with another visually impaired person on a non-profit basis. But if he is arrested under Goonda Act, he will be in jail for one year, even before he does it."
HAVE THEY READ STATUTE?
Supreme Court advocate KV Dhananjay says, "The definition of a 'digital offender' is simply laughable. I do not think that whoever asked the state government to include 'digital offence' under the Goonda Act has carefully read the Constitution of India. Under the Constitution, both copyright and telecommunications are exclusive central subjects. This means that states simply cannot make any law on these subjects." Dhananjay gives the example of payment of income tax. "You know already that only the central government can demand and collect your income taxes. Can any state government say that it will create a new law to punish its resident who defaults in payment of income tax? You would simply laugh at any such law. This new definition of 'digital offender' is no less amusing. Offences under the Information Technology Act, 2000, are exclusively punishable by the central government only. State governments have no power to say that an Act shall become an offence when it does not even have the power to regulate such an Act."
CRIMINAL LAW EXPERTS SAY
Senior designate advocate, MT Nanaiah: "This law will be too harsh. There are MLAs who do not know the meaning of cyber crime. We (advocates) will be kept busy at the cost of innocent people because of this step. It provides for arresting anyone who would allegedly be planning to do something. Finding him guilty or otherwise comes later. What happens if your phone is lost or somebody sends something from your phone without your knowledge? For the first few years, innocents will go to jail. Then the courts will probably intervene and call for modifying what is at best a bad law. A similar situation arose with Section 498(A) of IPC and Sections 3 and 4 of Dowry Prohibition Act. It was misused to such an extent that courts had to step in." Senior designate advocate and former State Public Prosecutor HS Chandramouli : "Even social legislations have been misused. And, in this case, most people are illiterate about what cyber crime is. It is mostly teenagers and college students who will feel the heat. These are the people who mostly forward material considered obscene. It is necessary to educate people through discussions, workshops in the bar associations, law college and with experts. The amendment has been passed in the Legislature without discussion, which is a tragedy. At least now, before it is gazetted, people should be warned about what is being brought into the Goonda Act. I do not know how fair adding 'digital offenders' in the Goonda Act will be to the public, but the chances of misuse are more. There are no riders or prosecution for misuse. And how many policemen know about cyber crimes? During the infamous 'kidney' case (where people were cheated and their kidneys removed) many policemen did not know the difference between kidneys and testicles."
ONE YEAR IN JAIL WITHOUT CHANCE OF BAIL FOR..

Forwarding a song from your phone

Forwarding an e-book from your email
A nude photo which the govt thinks is obscene
Any software that a company says it owns
A movie which a company says it has copyright on