India has a long road ahead in becoming a disabled-friendly country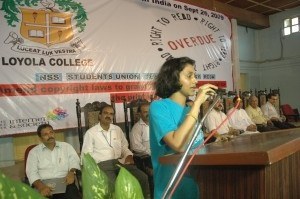 Dr. Nirmita Narasimhan seen at Loyola College, Chennai in 2009
India is home to 2.7 crore people living with one or the other kind of disability. According to the 2011 Census, 2.21 percent of India's population is disabled. Unlike the developed world, India's disabled are made further socially vulnerable by lack of quality education, lack of women's safety, and attitudinal barriers as they continue to grapple with the challenges of access, acceptance, and inclusion.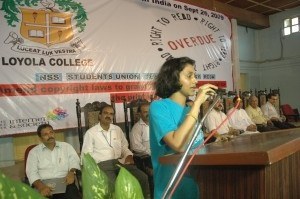 Dr. Nirmita Narasimhan seen at Loyola College, Chennai in 2009
The blog post by Sourav Roy was published in Your Story on August 31, 2016. Nirmita Narasimhan was quoted.
---
Changing times
Until a few decades ago, it was almost unimaginable for the disabled to lead independent lives. The advent of technology and internet has, however, opened new doors. A print-impaired person can now listen to audio books and learn. The Ministry of Social Justice and Empowerment has recently announced Sugamaya Pustakalaya, an online library where books are made available in different accessible formats for people with visual impairment and other print disabilities.
With hearing aids, surgical intervention, and other disruptive technological solutions, deafness is now curable. Consequently, the disabled are independent and contributing greatly towards society. The wheels of such change, for a majority of people, have already been set in motion in the developed world.
In developing countries such as India, however, the road to accessibility is a long, winding one. As Javed Abidi, director of the National Centre for Promotion of Employment for Disabled People (NCPEDP), has recently pointed out in an article,
"Just one in 250 hotel rooms in India are accessible for the disabled. Globally, internationally, the ratio is 1:50."
Accessibility is a major issue for the disabled, not just in the physical world, but in the digital space as well. Despite existing technology and standards, the problem of non-adherence to standards of accessibility and universal design in electronic devices and websites is a perpetual one. According to Nirmita Narasimhan, Policy Director, Centre for Internet and Society, Bengaluru,
"Standards exist for websites (WCAG 2.0), electronic documents and publications (EPUB 3.0) and other forms of technology, multi-media, and content which will make it easy for the developer to create accessibility products. Unfortunately, these are not being adhered to. We are overflowing with technologies which can potentially be of immense use to persons with disabilities. The market, however, fails to realise that there is a huge business case in tapping the market of persons with disabilities."