Nirmita Narasimhan gets NCPEDP-Mphasis Universal Design Award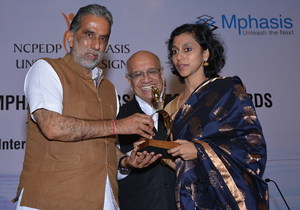 Dr. Nirmita Narasimhan receiving the award from Som Mittal, Jury Chair and Chariman, NCPEDP
The NCPEDP-Mphasis Universal Design Awards were given away in the capital on August 14, 2016. Nirmita got the award in the "Persons with Disabilities" category.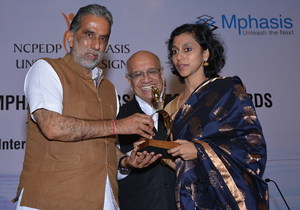 Dr. Nirmita Narasimhan receiving the award from Som Mittal, Jury Chair and Chariman, NCPEDP
See the press release published by India PR Wire. This was also mirrored in Hans India on August 17, 2016.
---
Shri Krishan Pal Gurjar, Hon'ble Minister of State for Social Justice and Empowerment presided over the event, in the presence of Som Mittal, Jury Chair and Chariman, NCPEDP, Dr. Meenu Bhambhani, VP & Head - Corporate Social Responsibility, Mphasis Ltd, and Javed Abidi, Honorary Director NCPEDP, several corporates and winners.
The National Centre for Promotion of Employment for Disabled People (NCPEDP)-Mphasis Universal Design Awards was incepted in 2010. Conservative estimates of the World Bank and World Health Organization suggest that there are about 70-100 million individuals with a disability in India.
One of the biggest challenges faced by people with disabilities is accessibility. Accessibility not only means access to physical spaces but also means access to information, technology, transport, services, aids and appliances, etc.
The awards aim to raise awareness about accessibility. This year, about 60 applications were received from across the country. The awards are the brainchild of Javed Abidi, who is also the global chair for Disabled People's International (DPI).
The 12 award winners were as follows:-
Category: Organisations
Indigo Airlines, University of Hyderabad, National Informatics Centre (NIC), Newshook, Planet Abled, Sap Labs
Category: Working Professionals
Prem Nawaz Khan Maraikayar of PayPal Inc; Sandeep Sankat, Associate Professor in the Department of Architecture, School of Planning and Architecture, Bhopal; and Sujatha Srinivasan of Rehabilitation Research and Device Development (R2D2) lab in the Department of Mechanical Engineering at IIT Madras bagged the awards.
Category: Persons with disabilities
Danish Mahajan and Divya Sharma of Radio Udaan; Nirmita Narasimhan, policy director with the Centre for Internet and Society; and Sathasivam Kannupayan of www.enabled.in won this award in the in persons with disabilities category.
Shri Krishan Pal Gurjar, Hon'ble Minister of State for Social Justice and Empowerment observed, "Commuting for the handicapped is a challenge in our country. Therefore all modes of transport should work towards this cause. We have to create a code of benefit for persons with disabilities, which ought to be complied with by all government and non-government institutions."
"Through this award, we want to be able to tell organizations in India that accessibility is a huge commercial opportunity as well as a social responsibility. We are delighted with some of the work we have seen this year, but sincerely hope that more and more organizations come into the fold, " said Javed Abidi.
Dr Meenu Bhambhani, VP & Head- Corporate Social Responsibility, Mphasis Ltd said,
" Mphasis started supporting universal design because we didn't want accessibility to just be an afterthought. From the very beginning, be it transport or building or policy or the system, persons with disabilities should be included in the services. It warms my heart to see so many young people winning the award this year."
Shri Som Mittal, Jury Chair and Chariman, NCPEDP, "I've been witnessing this award function for the past seven years and every year we assume we're not going to get applications. However, when the jury sits every year, sometimes it takes us all day to come to a decision. Universal design just needn't be an idea but it needs to be commercialised."
---
Awardees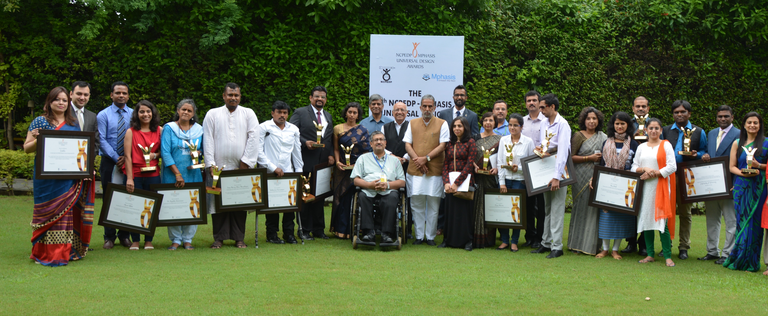 Above: Winners pose with their awards.