An Interview with David Baines

Maureen Agena interviewed David Baines, Deputy Director, Mada (Qatar Assistive Technology Center). Maureen asked questions regarding the status of disabled persons in Qatar, the level of ICT accessibility awareness for PWDs in Qatar, efforts of the Qatar Government towards Mada relating to policy measurements, schemes for PWDs, etc.
Following is the transcript of an interview by Maureen, a CIS consultant from Uganda with David Banes, Deputy Director, Mada Assistive Technology Centre, Qatar:

What is the status of disabled persons in Qatar or Mada in terms of number, age and gender and the kind of the work Mada is engaged in?
There are officially some 10,000 disabled people in Qatar across a wide range of needs. This doesn't include people who are ageing and acquiring moderate disabilities as a result of their age. Mada works with any disability, any age for any purpose, supporting both Qatari citizens and residents. We work with both men and women including the Arabic and non-Arabic speaking visitors. 
What is the level of ICT accessibility awareness for PWDs in Qatar? 
As more and more people in Qatar use ICT every day so the awareness of barriers is increasing. Mada has been working hard to raise public awareness through cinema, television and radio ads and even video ads in the local shopping malls! More importantly we are working hard to make sure that disabled people are aware of the potential of technology to change their lives, and so we work closely in partnership with other services for people with a disability to integrate accessibility activity.
Are there any efforts of the Qatar Government towards Mada in terms of policy measures, programmes, schemes for PWDs? How about efforts by companies or universities?
IctQatar currently has an e-accessibility policy out for consultation. The policy is wide ranging and offers detailed expectations across the public sector for websites, but also requires accessible ATM's, telephone and emergency services to be introduced.



What is the situation of copyright law in Qatar? 
Copyright and IPR are both respected in Qatar. We are delighted that creative commons is being introduced to the country allowing for alternative formats of documents to be more readily produced.
Do you have an exception in your copyright law permitting conversion into any format for the disabled without permission? 
Not yet. 
What is the level of development at Mada in terms of assistive technologies? Specifically screen readers in Arabic.
Mada is extremely busy in supporting both commercial and open source development of AT in Arabic. We have eight projects due to announce in the very near future. Screen readers are well developed in Arabic, but we are looking forward to seeing a more basic text to speech tool created to lower the cost of entry point for blind users on a limited budget.
Does Mada have any collaborative development with surrounding Arabic nations?
We welcome collaborations across the region and internationally. We speak regularly to organisations in Dubai, Abu Dhabi and then more widely to Egypt and Tunisia. Collaboration is very much central to our approach.
Approximately how many organizations are working actively in Qatar on accessibility for Persons with Disabilities? (Name any)
Mada is the hub for accessibility in Qatar. But we work closely with the Shafallah Center for Special Needs, Al Noor Institute for the Blind and Hamad Medical Corporation. 
Kindly share some details about the different areas of work of Mada centre? 
Probably best to look at our new updated website www.mada.org.qa, and http://mada.org ;http://twitter.com/madaQATC or  http://facebook.com/madaQATC.
What do you feel are important factors/ resources which are helpful to you in your advocacy? 
Maintaining effective networks both within Qatar and beyond. One ambition is to establish an online forum whereby the views of disabled people on priorities for digital inclusion can be gleaned. 
And what are the kinds of resources that PWDs would find useful if they had access to?
Great levels of Arabic accessible digital content and Arabic supported assistive technologies.
There is a draft ICT accessibility legislation. What are the highlights of this draft policy? 
The policy is wide ranging and identifies targets for government websites, banks and telecoms.



How long do you think it may take to get it adopted and what are the implications for the Government, NGOs, industry and others?
Unable to answer this currently.
Do you at Mada have any digital libraries for the blind?  If yes, approximately how many books are there? 
No. But we are collaborating with Bookshare internationally to deliver this. 



Is Mada, Centre of Assistive Technology able to exchange books with neighbouring countries?
Yes, where licences allow, we choose Bookshare as our partner to encourage international sharing of books for the disabled community.
At Mada, you do focus a lot on training. What are your different target audiences?
Training people with a disability in both accessible IT training and assistive technologies
Professionals including teachers and therapists
Parents and family
IT professionals including Web developers
Human resource professionals and employers.
How many people have you trained to date?
Over 200 including the first accredited AT training in Qatar for 20 participants. 
Anything about Mada disability legislation which is relevant to ICT accessibility? 
N/A.
Did Qatar sign the UNCRPD? How is implementation going on?
Yes, Mada is a direct response to that action.
Any specific details about web accessibility, audits/ evaluations conducted to look at accessibility of public web sites- details. (Any report which is available in English?)
We are completing an initial benchmarking study currently – no details have yet been made available. We are completing around 2 full site audits a month on major private and govt sector websites and feedback is being provided directly to those organisations to develop an action plan.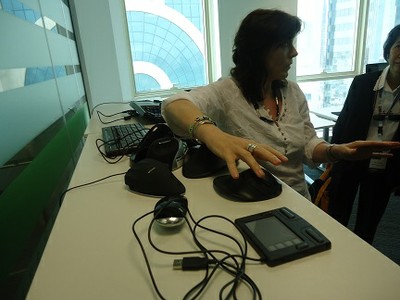 Thank you
Maureen Agena 
About the Mada Centre 
Mada (Qatar Assistive Technology Centre) is committed to using assistive technologies (AT) as a means of creating more accessible workplaces. As part of connecting people with disabilities to the world of information and communication technology, Mada launched a nationwide accessibility initiative with its partners, Qatar Telecom (Qtel) and Vodafone Qatar on 7 December 2010. The purpose of the initiative named "Connected" will ensure that persons with disabilities do not have to pay more than others to use mobile telecommunications technology.
The centre enables adults and children with disabilities to use computers, mobile devices and the Internet at home by offering a full range of  services and resources related to assistive technologies. At Mada, people of all ages, with any type of disability are able to visit the interactive resources centre to try out the latest assistive technology and access assessment and training services. The Mada team is able to assist in choosing a suitable solution through impartial and expert advice.
The views and opinions expressed on this page are those of their individual authors. Unless the opposite is explicitly stated, or unless the opposite may be reasonably inferred, CIS does not subscribe to these views and opinions which belong to their individual authors. CIS does not accept any responsibility, legal or otherwise, for the views and opinions of these individual authors. For an official statement from CIS on a particular issue, please contact us directly.