Report on 15 days Training in Basic Computing with use of NVDA and eSpeak in Gujarati
This programme was aimed at high school students who were completely new to computers. The aim of the workshop was to empower the students to at least read and write using eSpeak Gujarati with NVDA within the 15 day duration.
Venue: Shree Navchetan Andhajan Mandal Madhapar - Kachchh.
Dates: April 2 to April 16, 2015
Trainer: Mahendra Chudasma.
Language: Gujarati
Number of Participants: 15
---
Most of the participants achieved the target and were also able to manage simple tasks like opening and saving documents in Word and also had the opportunity of gaining knowledge of the use of Android phones. Our thanks to Mahendra for ensuring that the participants came out with flying colours at the end of the workshop.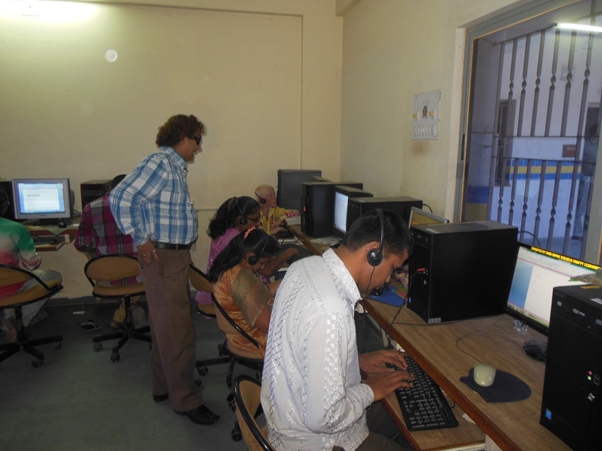 Training Schedule
April 2
Introduction
Information about Computer and its Parts
Keyboard orientation. Function keys, alphabets keys and number keys and number pad
About desktop, start menu, notification and taskbar
2: how to press 2 keys windows plus M. and alt plus F4
April 3
How to start Microsoft Office and Word
How to type words and how to read it. And modify delete and add alphabets and word
Modify spellings
April 4
Practice on topics covered in the first two days
How to start narrator without screen reader and how to install screen reader
How to read NVDA's commands by its help
April 5
How to formatting file by title, bold, increase and decrees fonts, make underline and justified and save it
How to make folder on desktop and how to search and copy file in the documents and paste in folder
April 8
Information about notification
How to set clock by notification and control panel
Difference between file and folder
How to play song with media player, VLC and Winamp
How to search in file and folders in your computer
Run Windows
April 9
Internet's information
Internet short commands
Read news in English, Gujarati, and Hindi newspaper through online
April 10
How to short navigate in internet by h for heading, t for table, l for list and insert f7 for links
About check box, combo box, radio button and button
How to create mail, and read it and compose mail and send it. With bcc and cc
April 11
About job related sites and banks sites
Searching through Google
April 12
How to download
Some general questions on computer practice
April 13
Practice for last days and some questions answers
Information about some messengers Facebook and Skype with its demonstration
How to create account and how to use these
April 14
Practice of old topics
Information about scanner with its demonstration
And demonstration with EnAble India EYE Tool and EnAble India Spelling Tool
April 15
Revision for complete course of NVDA of 15 days
April 16
Information about Android on students demand
---

List of Students for Gujarati Training
Garva Ajay Valjibhai
Chauhan Jayendrasinh Popatsinh
Meriya Pravin Karamshibhai
Gadhvi Hari Karsanbhai
Jat Razak Haronbhai
Koli Mavji Ramjibhai
Ganava Mital Panglabhai
Chawda Bharti Popatbhai
Maheswari Sunita Sumarbhai
Goyal Dipin Ravjibhai
Jeda Hisan Samirbhai
Patel Ritesh Bipinbhai
Raval Bhumi Nitinbhai
Mokariya Shardaben Girishbhai
Jain Alpaben Manojbhai
The views and opinions expressed on this page are those of their individual authors. Unless the opposite is explicitly stated, or unless the opposite may be reasonably inferred, CIS does not subscribe to these views and opinions which belong to their individual authors. CIS does not accept any responsibility, legal or otherwise, for the views and opinions of these individual authors. For an official statement from CIS on a particular issue, please contact us directly.