Report on the Training in the Use of eSpeak Hindi with NVDA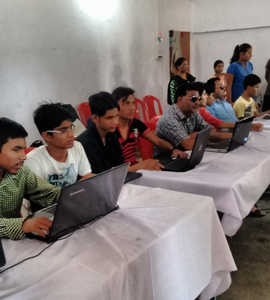 Students seen listening to the speaker at the event.
This workshop was organized by the newly established NGO called "Lakshay for the Differently Abled'". The main objective of the organization is to spread the knowledge of Assistive Technology amongst the Visually Impaired population of the State of Jarkhand.
The event was conducted on-line by Dr. Homiyar over skype, with local support from Mritunjay Kumar and Zainab.

The participants were a mix of Trainers and students from all walks of life. They had come in from all parts of Jarkhand and Bihar.

The event started by an inauguration by the local Municipal Deputy Mayor. The DY. Mayor of Ranchi promised a new premises for the newly formed NGO during his inaugural speech.

The main training began with a round of introductions and Expectations from the participants.

This was followed by sessions on Introduction to NVDA, Advantages of NVDA, Download and Configuration of NVDA and Configuration of Windows for Hindi.

The post lunch session was dedicated to explanation of different menus of NVDA, followed by comprehension of Hindi text using Espeak.

The last session was used to introduce the Hindi Inscript Keyboard.

Day 2 started with a quick revision of the Keyboard followed by an extended session on Hindi typing.

The post lunch session was dedicated to Bookshare and Reading and Writing on the Android platform.


The views and opinions expressed on this page are those of their individual authors. Unless the opposite is explicitly stated, or unless the opposite may be reasonably inferred, CIS does not subscribe to these views and opinions which belong to their individual authors. CIS does not accept any responsibility, legal or otherwise, for the views and opinions of these individual authors. For an official statement from CIS on a particular issue, please contact us directly.