Report on eSpeak with NVDA Screen Reader and Assistive Technology for Visually Challenged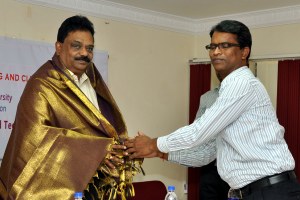 Picture depicting the Vice Chancellor being honoured during the event
The Centre for Internet & Society, Bangalore and National Association for the Blind, New Delhi in collaboration with Centre for Differently Abled Persons, Bharathidasan University, Tiruchirappalli organized a workshop on eSpeak with NVDA Screen Reader and Assistive Technology for Visually Challenged at Centre for Differently Abled Persons, Bharathidasan University, Tiruchirappalli on January 21, 2016.
The eSpeak with NVDA Screen Reader and Assistive Technology workshop planned for 1day (21st January 2016) for those stakeholders in Colleges and Volunteers working with visually challenged students was inaugurated in the morning by Mr. S. Shankar Subbiah, Assistive Technology Consultant and representative of Centre for Internet & Society, Bangalore, and National Association for Blind, New Delhi, the sponsors for workshop. He gave a talk on the purpose of the Workshop and need for use of Assistive Technology among the visually challenged in the present educational and employment context. Dr. M. Prabhavathy, Asst. Professor and Centre Head gave the Welcome address and Vote of thanks, thanking the participants for their interests on empowerment of visually challenged and their earnest efforts to training them.
The well-equipped and accessible ICT lab of the Centre for Differently Abled Persons, at Kajamalai Campus, Bharathidasan University served as the venue for training. In order to facilitate the participants with more concentrated and time efforts, High Tea and Lunch were also served during the workshop. The participant trainees were from Tiruchirappalli district and nearby districts like Karur, Pudukottai and Thanjavur of Tamilnadu state.
The workshop began with Resource persons, Dr. Prabhavathy and Mr. S. Shankar Subbiah gave an introduction on eSpeak with NVDA and various other Assistive Technology available for visually challenged in education as well as future employment opportunities. Emphasis was laid upon how colleges and university could source them, setup resource centres for visually challenged with access to accessible format of information.
In the afternoon, Mr. K. Navarasan, Visually challenged Assistive Technology Expert gave a live demonstration on eSpeak with NVDA screen reader working on various Data processing and other application tasks. Both, English and Tamil with eSpeak TTS was demonstrated. Also, explained about DAISY format and Bookshare, Online library membership and how it helped visually challenged. He narrated his personal experience as a Post Graduate in English how he was benefitted. And, demonstrated, how a visually challenged person who could login to Bookshare, download books and read through DD Reader+.
The one day workshop had the Valedictory function in the evening presided by Prof. V.M. Muthukumar, Hon. Vice Chancellor, Bharathidasan University, Tiruchirappalli who delivered the valedictory address and got the feedback from the participants on whether the workshop was useful and added that they should encourage the students in their college and known to them for using technology. Vote of thanks to CIS, NAB and the organizers was given by Dr. M. Prabhavathy, Asst. Professor and Centre Head and the training felt much useful ended up with the National Anthem.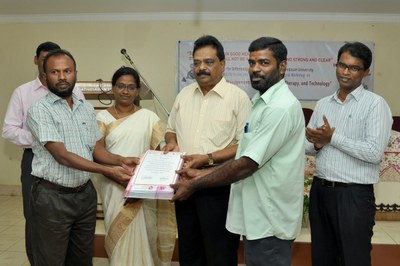 Picture above shows distribution of certificates at the event.
Feedback
Mrs. Ra, Vijaya Priya, Assistant Professor, Government Law College, Trichy gave the feedback, how the training was helpful and would be useful setting up a center in their college, as there are many visually challenged students now taking law as profession and also was happy to have their own students attending the workshop to be motivated by Mr. Navarasan, as he could demonstrate to them all the possibilities of eSpeak with NVDA and also Bookshare.
Dr. V. Vethavalli, Assistant Professor, Coordinator for Visually Challenged, Assistant Professor, Bharathidasan University Constituent College, Orathanadu felt the workshop was much useful personally to know all the assistive technology available for visually challenged and she would encourage the college for the intake of visually challenged in their college knowing all such technology is available for Tamil and English typing. She also appreciated Mr. Navarasan for his participation in the workshop and do a live demonstration on online library access which encouraged others.
The views and opinions expressed on this page are those of their individual authors. Unless the opposite is explicitly stated, or unless the opposite may be reasonably inferred, CIS does not subscribe to these views and opinions which belong to their individual authors. CIS does not accept any responsibility, legal or otherwise, for the views and opinions of these individual authors. For an official statement from CIS on a particular issue, please contact us directly.