Report on 5 day TOT for Training in Use of Espeak Kannada with NVDA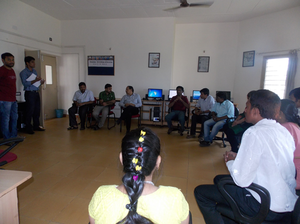 Participants seen discussing during the event.
A unique programme was organized in partnership with Mitra Jyothi – Bangalore, Enable India – Bangalore and NFB Karnataka. The aim of the programme was to empower the Computer Teacherrs for the blind in the use of Espeak Kannada and apprise them with Modern Teaching Techniques for the Blind.
The training programme was held from September 21 - 25, 2015 at Mithra Jyoti in Bangalore. Fourteen delegates attended the programme. Suresh, Sandesh and Moses from Enable India were the trainers. NFB Karnataka helped in sourcing the participants, Mitra Jyothi hosted the event and the female participants and the trainers were from Enable India.
The workshop started with a round of introductions and expectations from the participants. All the participants expressed various needs, which include the following:
Need to learn to read and write in Kannada.
Need to learn new teaching Techniques.
Need to learn how to make accessible materials for teaching computers.
Need for learning EYE tool and /spelling tools.

The participants were a blend of Sighted and Blind Trainers. The Sighted trainers were very keen in knowing all they could about the new Teaching Techniques and the Screen Readers. They were also excited to know more about Assistive Technology for partially sighted students.

The Blind trainers showed special interest in NVDA and Assistive Technology.

The Session began with an introduction to NVDA and its advantages followed by a detailed presentation by Suresh.

The validation function was conducted by Major A. Singh – CEO Mitra Jyothi.


The views and opinions expressed on this page are those of their individual authors. Unless the opposite is explicitly stated, or unless the opposite may be reasonably inferred, CIS does not subscribe to these views and opinions which belong to their individual authors. CIS does not accept any responsibility, legal or otherwise, for the views and opinions of these individual authors. For an official statement from CIS on a particular issue, please contact us directly.