Report on 15 days Training in Basic Computing at RNKS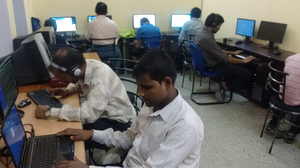 Participants at the event held in Jaipur are seen learning eSpeak computing
The NVDA team organized a 15 days training in basic computing at Rajasthan Natrahin Kalyan Sansthan (RNKS) in Jaipur. The training programme held from June 1 - 15, 2015 was attended by 12 delegates. Mrityunjay Kumar was the trainer. The basic training for computers was targeted for school going children of RNKS.
The aim was to enable them to at least start using a computer as a Tool for Reading and Writing in Hindi. Along with knowledge of Basic computer Operations, the participants were also taught about the use of Bookshare Online Library, Use of Android and other Assistive Devices.
Report from Master Trainer: Mritunjay Kumar
Day 1: We have learnt Keyboard orientation and Introduction to computer, like what is a computer, where do you use a computer and advantages of computer.
Day 2: We have learnt Typing and introduction of screen reader, what screen reader is and how many types of screen reader. Also discussed about input and output devices.
Day 3: We have played small game about typing, how do we use fingers do typing? Also explained desktop and taskbar concept.
Day 4: We have learnt about software and types of software, There are three types of software, also explained menu, what is menu? What types of menu?
Day 5: We have learnt Opening closing and saving the document, editing concept have also been discussed.
Day 6: We have learnt how to cutting, copying and pasting the text in documents. Also we discussed Hindi alphabet.
Day 8: We have done Hindi typing and we have written small story in Hindi language.
Day 9: We have learnt File folder management and explain concept of dialog box, what is dialog box, types of dialog box.
Day 10: We learnt find and replace feature using Microsoft word document. Also explained how to create table in Microsoft Word.
Day 11: We have learnt spelling tool.
Day 12: We have discussed brief history of internet, and how will be do Google search. Also we learnt how to open website using NVDA
Day 13: We discussed about book share website, then we have learnt how to open book share website, and how to download books. Also we explain about android.
The views and opinions expressed on this page are those of their individual authors. Unless the opposite is explicitly stated, or unless the opposite may be reasonably inferred, CIS does not subscribe to these views and opinions which belong to their individual authors. CIS does not accept any responsibility, legal or otherwise, for the views and opinions of these individual authors. For an official statement from CIS on a particular issue, please contact us directly.