Girls in ICT Day 2013 — Nirmita Narasimhan Felicitated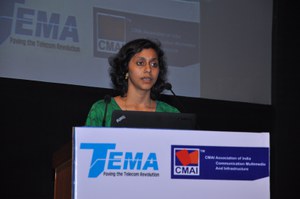 Nirmita Narasimhan speaking at the Girls in ICT 2013 event in Delhi
The ITU-APT Foundation of India with support from CMAI - Association of India Communication and Infrastructure organized the "Girls in ICT Day" to pay tribute to the contribution of young women in ICT in India on May 7, 2013 at FICCI Auditorium, Tansen Marg, New Delhi.
---
Nirmita Narasimhan got a felicitation on this event.
---
Anil Prakash, Secretary General, ITU-APT Foundation of India wrote a 'thank you' letter to Nirmita for participating in this event. The text of the letter by Anil Prakash is reproduced below:
Thank You for attending the Girls in ICT day 2013
Dear Ms. Narasimhan,
On behalf of ITU-APT Foundation of India and CMAI, I take this opportunity to thank you for your precious time and for participating in the panel discussion at the "Girls in ICT Day 2013", held on 7th May 2013 at FICCI Auditorium, Tansen Marg, New Delhi. Your thoughtful deliberation on the subject was well appreciated and encouraged by the participants. The opening address by...Rita Teaotia, Addl, Secretary, DoT and concluding address by ... Eun-Ju Kim, Regional Director, ITU Regional Office in Asia Pacific had added a great significance to the programme.
The programme was a great success and over 150 participants including international dignitaries, ambassadors, ministers from foreign countries, students, young professionals, civil society & government representatives and the industry acknowledged the awards given to young girls who have contributed in the development of ICT and made a difference with their untiring enthusiasm, determination and working against all odds to make a difference.
The success of the programme has encouraged us largely as this was the first time the event was celebrated in India and henceforth we plan to celebrate it on an annual basis and pay our tribute to the young women achievers in the field of ICT.
We once again thank you for your valuable contribution and look forward to your continued support in future.
Thanking You,
Anil Prakash
Secretary General
ITU-APT Foundation of India
Suite 115, Gagandeep, 12 Rajendra Place
New Delhi-110008
Tel. +91-11-2575 7128
---
Below is a group picture of participants at the Girls in ICT event in Delhi. The winners are seen holding on to their certificates.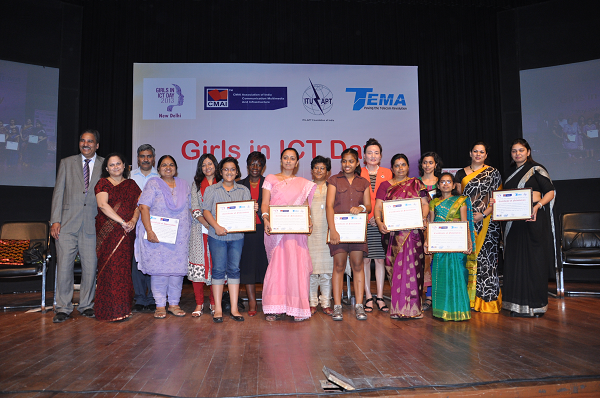 The views and opinions expressed on this page are those of their individual authors. Unless the opposite is explicitly stated, or unless the opposite may be reasonably inferred, CIS does not subscribe to these views and opinions which belong to their individual authors. CIS does not accept any responsibility, legal or otherwise, for the views and opinions of these individual authors. For an official statement from CIS on a particular issue, please contact us directly.