eSpeak Training in Hindi Language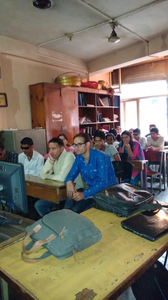 Participants attending the class
National Association for the Blind, Kullu hosted a 2 day training in the use of eSpeak in Hindi language with NVDA for its special educators, in-service blind, and blind students. The programme was attended by 20 participants who came from all parts of Himachal Pradesh.
The event started with a round of introductions and expectations. Most of the participants expressed their desire to learn Hindi typing in order to either use it in their workplace or use it during their studies.

This was followed by an introduction to NVDA. NVDA was new to most of the participants, and they were amazed to know the benefits of NVDA compared to other commercial screen readers.

The next session was dedicated to installation of NVDA, introducing different menus and configurations options.

This was followed by a comprehension of Hindi text. Barring just 2 candidates, all others were able to understand the text immediately.

The day 2 started with Hindi keyboard. Participants were taught the use of Inscript keyboard. They were also taught configuring hindi keyboard in Windows.

Writing words and short sentences was the next item in the training, in which most of the participants excelled beyond expectations. Most of them started writing sentences with ease.

The post noon session was reserved for spreading awareness about different sources for obtaining accessible reading material, including Bookshare; android and its advantages, different sources for obtaining easy finance for purchase of computers and laptops, information about ADIP schemes.

The workshop was covered by E-TV HP and they filmed the participants typing in Hindi.

The event ended with a vote of thanks from the President NAB Kullu- Mrs. Shalini Vats.


The views and opinions expressed on this page are those of their individual authors. Unless the opposite is explicitly stated, or unless the opposite may be reasonably inferred, CIS does not subscribe to these views and opinions which belong to their individual authors. CIS does not accept any responsibility, legal or otherwise, for the views and opinions of these individual authors. For an official statement from CIS on a particular issue, please contact us directly.