Thematic Edit-a-thon at Yashawantrao Chavan Institute of Science, Satara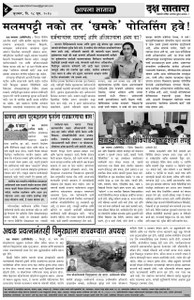 Press coverage of the event in Daksh Newspaper, Satara
A Marathi Wikipedia edit-a-thon was held at Yashawantrao Chavan Institute of Science, Satara. The aim of the workshop was to edit and improve articles on Marathi Wikipedia under the theme "Environment and Local Biodiveristy". Participants were given an orientation on how to contribute to Wikipedia and other Wikimedia projects. The Yashawantrao Chavan Institute of Science is housed under the Rayat Shikshan Sanstha, a century-old organization with the largest network of schools and colleges across Maharashtra. The management and local environmental group, Drongo, took the initiative to organize this thematic workshop in Satara, an area rich in terms of biodiversity in the Western Ghats. Noted ecologist and scientist Prof. Madhavrao Gadgil addressed the workshop as a resource person along with Prof. V.Y. Deshpande of the Institute. A total of 23 members from various like-minded organizations participated in the workshop.
Image by सुबोध कुलकर्णी/ CC-BY-SA 4.0

The views and opinions expressed on this page are those of their individual authors. Unless the opposite is explicitly stated, or unless the opposite may be reasonably inferred, CIS does not subscribe to these views and opinions which belong to their individual authors. CIS does not accept any responsibility, legal or otherwise, for the views and opinions of these individual authors. For an official statement from CIS on a particular issue, please contact us directly.