Indian English Wikipedian Nvvchar completes 1500 Did You Know articles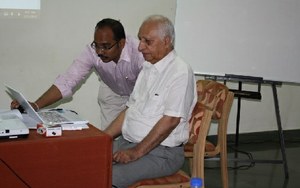 Nvvchar (sitting) and Vishnu Vardhan during Train-the-Trainer 2015 in Bangalore.
Indian English Wikipedian Nvvchar has completed 1500 Did you know articles. This is the second highest on English Wikipedia.
Indian English Wikipedian User:Nvvchar has completed 1500 Did you know (DYK) articles. DYK is a short piece of fact (hook) taken from Wikipedia's newest content and is showcased on the "Did you know" section on the Main Page. On English Wikipedia 18-24 hooks appear on the Main Page every day. Since mid-2012 Nvvchar has been diligently working on this DYK project and has created (or expanded) articles on a very wide range of subjects such as religion, history, geography, arts, literature, women's achievement, education etc.
On 27 July 2011 Nvvchar completed 500 DYK articles. On 23 August 2013 his 1000th DYK appeared on the Main Page. The DYK nomination and review process need a lot of effort and sometimes it takes weeks to fully finish the process. However after the 1000th DYK in August 2013, in just 2 years 8 months Nvvchar touched another milestone. On 26 April 2016, his 1500th DYK appeared on the Main Page of Wikipedia and the fact was from an article Rudra Mahalaya Temple, an ancient ruined temple located Sidhpur in the Patan district of Gujarat.
A few Wikipedians congratulated him for this achievement. User:Ijon, a Hebrew Wikipedian, appreciated him saying-
Thank you for the persistent and quiet work you do to contribute much-needed knowledge to Wikipedia!
User:Victuallers, an English Wikipedia administrator, wrote on Nvvchar's talk page-
Lets just guess that the average DYK gets read by 100 people - that means you have a readership of 150,000 people. I think its more like 1000 per DYK appearance so that means that your words have been read by over 1 million people and thats just on the first day of publication! There must be multi-millions of people who know a little more about Asian settlements, buildings, people and artefacts then they would have done without the efforts of Nvvchar. . . . . . Great respect for your efforts. Thanks from the Wiki and its many readers
As of 9 May 2016, Nvvchar has 1503 DYKs.
Image source: Wikimedia Commons
The views and opinions expressed on this page are those of their individual authors. Unless the opposite is explicitly stated, or unless the opposite may be reasonably inferred, CIS does not subscribe to these views and opinions which belong to their individual authors. CIS does not accept any responsibility, legal or otherwise, for the views and opinions of these individual authors. For an official statement from CIS on a particular issue, please contact us directly.