The Intellects holds 2nd International Conclave of Odia Language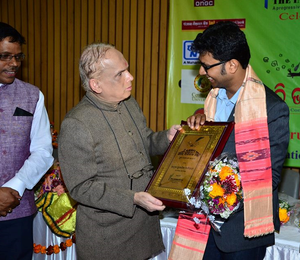 Subhashish receiving the award
The Intellects, a Delhi-based progressive forum of intellectuals, held the 2nd International Conclave of Odia Language at the India International Centre in New Delhi today.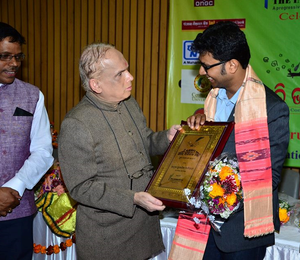 Subhashish receiving the award
Subhashish Panigrahi participated in the event and won an award. Look for the coverage by Odisha News here.
---
The seminar had the title of 'Aamari Bhasha Pathe'. The conclave was inaugurated by eminent Novelist and Writer Dr. Bibhuti Pattnaik and Rajya Sabha MP Baishnab Charan Parida among others. In the inaugural session, the speakers, including Shri Baishnab Parida, Dr. Natabar Satpathy, Dr. Amarendra Khatua, Poet Sankarshan Parida, Dr. Iti Samanta, Smt. Mamata Mohapatra, Mr. Subhasish Panigrahi stressed on the need of promotion of Odia language and its development on the global arena. They highlighted various angles of Odia language, its history and the challenges it faced apart from outlining the modalities to give it a big boost.
In the second leg, a Poets' Conference was held. Dr. Jagannath Prasad Das, Dr. Amarendra Khatua, Poet Sankarshan Parida, Dr. Anita Panda, Poet Gajanan Mishra, Smt. Yashodhara Mishra, Poet Manas Ranjan Mohapatra and many other recited poems.
In the last leg, Kendra Sahitya Akademi President, Dr. Vishwanath Tiwari and Sir Mark Tully (former Bureau Chief of BBC, New Delhi), graced the occasion among others. Several eminent personalities were honoured and received the awards from The Intellects.
Ama Gourav Samman – Shri Bibhuti Pattnaik
Amari Bhasha Pathe Samman:
Shri Baishnab Parida
Dr. Amarendra Khatua
Smt. Kunu Dash
Dr. Iti Samanta
Dr. Natabar Satpathy
Shri Gajanan Mishra
Shri Sankarshan Parida
Smt. Mamata Mohapatra
Shri Kulamani Biswal
Yuva Prerana Samman:
Shri Subhasish Panigrahi
Shri Manoranjan Mohanty
Shri Subhranshu Panda
Swabhimani Odia Sanghthan Samman:
Biswajit Dash (IPROCH)
Sanjeev Mohanty (Odisha Forum)
Bijaya Kumar Dash (Sukha Dukha Prakashan)
Shri Debendra Rout, Chairman of The Intellects and Parambrahma Tripathy, Secretary (Literature), The Intellects, organised the event successfully with all their hard efforts.