Promoting Online Content Through 'Wiki Malayalam'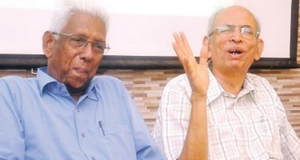 V K Damodaran, chairman, Centre for Environment and Development, with ecologist Madhav Gadgil
Practical sessions on using Wiki Malayalam as a medium to preserve the language and promote digital media were held on Thursday, the final day of the two-day workshop on 'Wiki Malayalam.'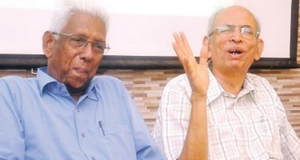 V K Damodaran, chairman, Centre for Environment and Development, with ecologist Madhav Gadgil
The article was published by New Indian Express on May 6, 2016.
---
The event was organised jointly by Swadeshabhimani Media Study Centre in conjuction with Centre for Internet and Society and the Wiki Malayalam Fraternity. The sessions were promising, enriching and a big help for promoting online content through Wiki Malayalam which is still in its infancy, the participants said.
Rahimuddhim Sheik of Centre for Internet and Society, and Manoj Karangimadathil, Wikipedia Fraternity, led the sessions on Wiki technicals. It was followed by an interactive practical session wherein participants learned to be an editor and reporter in Wiki Malayalam. Participants were taught to create articles on sandbox through observation of articles published on Wikipedia.
Various aspects for making Wiki Malayalam presentable such as adding more images to the articles were imparted effectively.
Environmentalist Madhav Gadgil, speaking after inaugurating the two-day workshop,the other day, said, "Authenticity of the information in Wikipedia is often questioned but the discussion page offers the option to point out misleading information and to ensure true information and details."
The introductory session by Madhav Gadgil incorporated various themes and ideas about the workshop, wikipedia commons, wikipedia projects, and its pillars and principles.
In his session he briefed about how wikipedia gives an in-depth information on particular material on a chronological order and various external references for further extensive reading. As an examples Madhav Gadgil discussed about the Athirapilly Hydroelectric Project in Wikipedia. It sets out a chance for anyone to start a new article on any subject.