Meet Telugu Wikipedian Surampudi Meena Gayathri – the first South Indian Wikiwoman completing 100Wikidays Challenge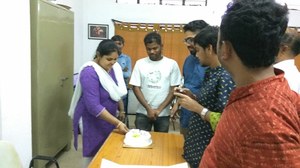 Telugu Wikipedians Pranayraj1985 and Meena gayathri.s celebrating the completion of 100 Wikidays Challenge on Telugu Wikipedia Day
In December 2016, Ms. Meena Gayathri and her fellow Telugu Wikipedians celebrated the Telugu Wikipedia Day and her accomplishment in the 100Wikidays Challenge – a challenge that requires Wikipedians to create one new article per day for one hundred days in a row. When asked about how it feels to take up the challenge and to become the first South Indian Wikiwoman who completed it, she replied "Like exericing, you would think it is hard to do it every day but if you try, it is really satisfying." Ms. Meena Gayathri has been one of the few active female Telugu Wikipedians since 2014. Her contribution and passion towards her language and culture have transcended into what she called a "knowledge revolution."
Ms. Meena Gayathri is an active Telugu Wikipedian who started her 100Wikidays challenge at the end of August 2016. Her motivation came from the support of her family, the satisfaction of creating articles, and her determination to be an inspiration for her fellow Wikipedians. Ms. Meena Gayathri had chosen topics from her interests, including freedom fighters from Andhra Pradesh, wherein articles were present on English Wikipedia but not in Telugu. "I think those are really basic things that Telugu Wikipedia should have but somehow there isn't" she said. Meena Gayathri reached out to the Telugu community for assistance with MediaWiki's content translation tools. She also had the support of CIS A2K for books and reference resources. Drawing inspiration from current events and Indian culture, Meena Gayathri also wrote articles on Hindu Goddesses on each the ten days of Dussehra in coordination with the worshiping of a different Goddess on each day of the festival.
The creation of articles on Hindu Goddesses also mark Meena Gayathri's effort and passion in bridging the Wikipedia gender gap in content coverage. Half way through her challenge, in coordination with the Wikipedia Asian Month in November 2016, she started writing on biographies of Asian women, including female politicians in Sri Lanka and Pakistan. "It's very interesting" she said, while mentioning her experience in researching and writing about these female figures, "(how) these women, under hard situations… are still securing their positions in the government and in the politics… I want to let people see how they gain and sustain their power as women."  Additionally, Meena Gayathri pioneered a new challenge called "100Women Wikidays Challenge" in which participants would write a woman-related article each day in an endeavor to balance the content gender gap on Wikipedia.
"People said to me that I am the first South India female Wikipedian to complete the 100WikiDays, and the first in the whole world to take up the 100Women Wikidays."
Her attempt to complete the 100Women Wikidays challenge, however, stopped a few days ago due to the lack of internet connection and time. In fact, this is not the first time that she has faced such difficulty during the completion of her challenges. She described how during a family tour outside of the city, she used to bring a laptop and ensure stable internet connection just so she can wake up as early as possible each day to finish her daily articles for the 100Wikidays. She agrees that women usually seem to be occupied by different responsibilities and activities – family, work, and socializing. She was glad that her family and community have given her full support, materially and mentally, to complete the challenge. When asked about tips on sparing some time for Wikipedia every day, she answered, "The first thing I do in a day… (is to) plan each and every moment of what I need to do in my day. And I maintain a task list in my mind. I will say, just remind yourself twice or thrice a day, remind yourself what you really want to do and you can make some time for Wiki(pedia) too."
At the end of our conversation, we asked Gayathri to share some advice and encouragement to those who want to take up or are completing the 100Wikidays (or the 100Women Wikidays) Challenge. She answered without hesitation, "I will say, don't feel afraid, that work you want to do is not that tough after all… It will be satisfying. You are contributing to the knowledge revolution... I think for Telugu, for the online knowledge in our linguistic background, this is going to be history. I will tell them 'We're creating a history.'"
The views and opinions expressed on this page are those of their individual authors. Unless the opposite is explicitly stated, or unless the opposite may be reasonably inferred, CIS does not subscribe to these views and opinions which belong to their individual authors. CIS does not accept any responsibility, legal or otherwise, for the views and opinions of these individual authors. For an official statement from CIS on a particular issue, please contact us directly.