Marathi Wikipedia Symposium at Gokhale Institute Of Politics & Economics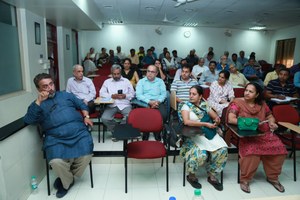 Marathi Wikipedia Symposium at Gokhale Institute Of Politics & EconomicsParticipants engaging in strategy discussions/ Image By सुबोध कुलकर्णी / CC-BY-SA 4.0
A strategic symposium on Marathi Wikipedia and its sister projects was conducted on 29 April, 2017
The Marathi Wikipedia community held a symposium at the Gokhale Instititute of Politics and Economics on 29 April, 2017. This was an attempt to bring together various stakeholders for developing a strategic plan for Marathi language wiki projects such as Wikipedia, and especially Marathi Wikisource and Wiktionary. Over 70 persons were involved in the strategic planning efforts to take Wikisource and Wiktionary to existing Marathi Wikipedians and the general public at large. Eminent ecologist, Prof. Madhav Gadgil served as a resource persons for this event.

Gokhale Institute Of Politics & Economics and Rawat's Nature Academy took lead in organising this symposium. CIS-A2K facilitated the process. A total of 50 eminent personalities from various fields such as literature, linguistics, journalism, science forums, publishers, librarians, State Language & Culture Department honchos, active citizen forums working on different issues etc. took active part in the proceedings. They aim to act as anchors in future. According to the needs of Wikimedia projects, 12 Action Groups have been formed. Planning further sessions for May and June has begun over a common email thread.
The views and opinions expressed on this page are those of their individual authors. Unless the opposite is explicitly stated, or unless the opposite may be reasonably inferred, CIS does not subscribe to these views and opinions which belong to their individual authors. CIS does not accept any responsibility, legal or otherwise, for the views and opinions of these individual authors. For an official statement from CIS on a particular issue, please contact us directly.