Women's History Month: Sambad collaborates with Odia Wikipedia for a Two Day Edit-a-thon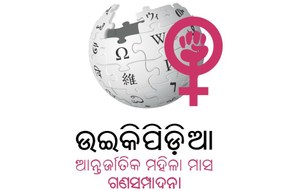 Sambad's 100 Women editathon logo
Sambad's 100 Women Edit-a-thon: Two day edit-a-thon to increase quantity and quality of women-related articles on Odia Wikipedia
Sambad, in collaboration with Odia Wikipedians, is organising a two day 'edit-a-thon' on March 18 and 19, 2017 to increase and improve  articles on women in Odia Wikipedia. Sambad, a regional language daily newspaper in Odisha, is among the most widely circulated and published newspapers as it is from eight key cities in the state, including the capital city of Bhubaneswar. The event will be organised in Sambad Bhawan Bhubaneswar with around 15-20 participants from different walks of life.
In 2011, a survey carried out by the Wikimedia Foundation found that only 8.5 percent of Wikipedia editors were female. Since then, awareness has risen and many have found the editor demographic imbalance to be a strong reflection of what the encyclopaedia does or does not cover, including how written language and discourse were constructed on the pages and how discussion flows on article talk pages.
The aim of this 100 Women Edit-a-thon is to create articles on 100 Women from Odisha, hailing from different fields of work. Mrutyunjaya Kar, Admin, Odia Wikipedia hopes that "through this edit-a-thon, Odia Wiki will get a new batch of female Wikimedians. I hope all the other Indic Wikipedias will replicate this to create and improve articles in their respective languages." The Women's Studies department of Utkal University and the archives of the Sambad newspaper are major resources for this edit-a-thon.
The program will run for two days with a batch of journalists from Sambad and Eastern Media along with local Wikipedians from the city. Tanaya Patnaik, Director of Eastern Media says, "Odisha and Odias have such rich history and accomplishments, but information regarding the same is limited on the Internet. Wikipedia has emerged as the most popular go-to information site and it is essential that we Odias as a community get together to make our presence felt on the web. We loved the idea of collaborating with Odia Wikipedia for an edit-a-thon aiming at creating 100 Wikipedia articles on Odia women achievers. This would be an incredible learning experience for us."
WikiTungi Bhubaneswar, the city based community of Odia Wikipedians is taking the lead in organising the event. The first day of this edit-a-thon is dedicated to introducing Wikipedia and Wikimedia projects to the participants. Participants will also be taught how to create user accounts. The second day of this edit-a-thon is to create or improve articles from the 100 Women list. Tanveer Hasan, Program Manager, CIS-A2K added, "It is vital that Wikimedians take the lead in contributing to a gender sensitive Wikipedia. Edit-a-thons such as these are instrumental in doing so. These events must be carefully nurtured and an effort to follow-up should be made. According to Wikidata, Odia Wikipedia is among the gender balanced Wikipedias in terms of content. 20.6% of articles on Odia Wikipedia are related to women. In collaboration with Sambad for this initiative, Odia Wikipedians strive to bridge the gender gap and create an example in this movement.
The views and opinions expressed on this page are those of their individual authors. Unless the opposite is explicitly stated, or unless the opposite may be reasonably inferred, CIS does not subscribe to these views and opinions which belong to their individual authors. CIS does not accept any responsibility, legal or otherwise, for the views and opinions of these individual authors. For an official statement from CIS on a particular issue, please contact us directly.