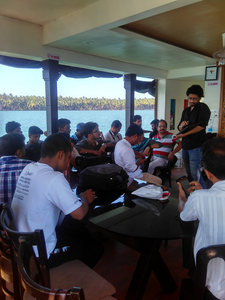 WikiVoyage demonstration in houseboat on Bekal lake (Image by Manasa Rao)
The Malayalam Wikipedia community jointly held its anniversary celebrations and annual gathering in Kasaragod district, Kerala from 26 to 28 December, 2016. The Centre for Internet and Society was invited to partake in the event.
The Malayalam Wikipedia community held its fifth annual gathering, WikiSangamotsavam, in Kasaragod, the northernmost district of the state of Kerala. The culturally diverse district is a melting pot of seven actively spoken languages- Malayalam, Kannada, Tulu, the Beary dialect, Tamil, Marathi and Konkani. It was a three day affair from the 26th to 28th December 2016, with the third day's WikiVoyage incubator session fittingly held on a houseboat out in the Bekal lake! The event commemorated the regional Wikipedia's completion of 14 years which fell on the 21st of the month. The community aims to build advanced technical support for its members in the next year.
The first day was marked by a seminar by Mr. Sathyaseelan, a differently abled Wikipedian who demonstrated(video from previous meetup here) how to convert voice to text using Optical Character Recognition (OCR) methods for visually challenged Wikipedians. This was followed by a session on Open Street Mapping by the newly elected Malayalam Wikipedia administrator Ranjith Siji. In a one-on-one sit down, Ranjit candidly spoke about the technical challenges that the Malayalam Wikipedia and the wider Wikipedia community faces today. He opines that the existing mobile support for editing wikis is proving insufficient and more robust apps need to be developed to make Wikipedia more mobile ready for on-the-go editors. He's taking this up as his personal mission for the upcoming year. In light of using freely reusable data, Ranjit says, "collaborative editing must also be enabled as groups can work together to improve local knowledge."
The second day began with a formal opening ceremony by P. Karunakaran, Member of Parliament for the Kasaragod constituency. He spoke on the importance of furthering the cause of knowledge in India's most literate state. Then, the Malayalam Wikipedia community sat down for a transparent round table discussion on progress made and targets to be set for 2017. The community noted the success of programs and activities like Ente Gramam (which encouraged members to detail information regarding their village/ ancestral village), Olympics month, Wikipedia Asian Month, Wiki 100 Days, etc. The Wiki 100 Days in particular led to the creation of close to 80 articles a day in Malayalam Wikipedia. The number of articles also saw a surge post the Wiki Conference India 2016 held in Punjab. The discussion mulled on the aspects that need to be improved upon such as selected articles and selected photos on the Main Page which see unenthusiastic voting numbers amongst the community members. Manoj K, an active community member, proposed the strategy of targeting groups of editors(old/new) with niche knowledge of a specific subject or focus area. He related his own experience in this regard: "I'm part of many bird watching and environmental clubs and I talk to them about Wikipedia so that they can use their knowledge about conservation or birds to edit or create those specific wikis." He also identified challenges that were administrative in nature. "When offline events increase, online participation tends to decrease due to the leg work involved", he observes. In addition, he feels grant writing and documentation training would also benefit the community. He added that religious vandalism of articles on monuments by fringe groups is also an issue faced by the community.
Anil Kumar, another long time Wikipedian, spoke of the general increase in awareness regarding editing Wikipedia in smaller towns and districts in Kerala. He pointed out that reviving School Wiki would further increase awareness and, subsequently, participation. The Kerala government's IT@School project is now leading the efforts behind reviving School Wiki which aims to document (in Malayalam) details of all the schools in the state. K. Anvar Sadat, the Executive Director of IT@School spoke to the Malayalam Wikipedia community in a video message enumerating the benefits of a detailed statewide school database. The community also aims to complete their target of 50, 000 Wikipedia articles by the end of the year. The second day came to a close with a seminar on mangalamkali, a local folk dance in the district by Master Ramachandran.
Ranjit Siji further outlined the agenda for 2017 saying that data scraping of public records onto Wikipedia and a tool to maintain edit-a-thons will be a key focus for the community this year. He said, "when data can flow from public record to a wiki, it makes editing much easier and accessible even for new editors."
When asked Manoj added that the community plans to conduct more online and offline events for community bonding. He said, "monthly meetings and edit-a-thons will keep the community active." 2017 will also see Wikipedians in the community being rewarded through recognition of their pioneering efforts, he said. However, he emphasised the need for public and social media branding of future events. The final day of the annual gathering was held on a houseboat in Nileshwar. Wikipedian Sajal Karikkan gave a presentation on the Malayalam WikiVoyage project, still in incubation, where users could provide travel guidance about areas they are most familiar with. It was enthusiastically received by the community members. While the event was timed between Christmas and New Year, it did see some enthusiastic participation. However, the community did lack significant participation of women to bridge the gender divide(see chart below). Smitha, a long time Wikipedian and oceanographer feels that working women find it harder. She says, "they simply don't have the time with their work and family commitments." With the community planning to create mobile apps for editing in Malayalam, this could be sufficiently addressed through focused efforts to involve more women.
The views and opinions expressed on this page are those of their individual authors. Unless the opposite is explicitly stated, or unless the opposite may be reasonably inferred, CIS does not subscribe to these views and opinions which belong to their individual authors. CIS does not accept any responsibility, legal or otherwise, for the views and opinions of these individual authors. For an official statement from CIS on a particular issue, please contact us directly.