Wikipedia Workshop on Template Creation and Modification Conducted in Bengaluru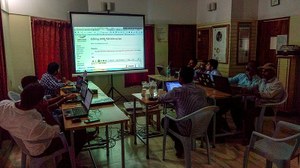 Participants during the workshop
A Wikipedia workshop on template creation, modification was conducted in Bengaluru on 30 July 2017. Here is a report.
A Wikipedia workshop on template creation, modification was conducted in Bengaluru on 30 July 2017. 9 Wikipedians, mostly associated with Karavali Wikimedians and Kannada Wikimedia projects attended the workshop. A template is a Wikipedia page created to be included in other pages. Templates usually contain repetitive material that might need to show up on any number of articles or pages. They are commonly used for boilerplate messages, standard warnings or notices, infoboxes, navigational boxes and similar purposes.1 The workshop was requested by Kannada Wikimedians.
The workshop started with explaining template and its importance. This was followed by discussing structure of a template, and creation of a simple template with a couple of variables. This activity continued for sometime, and designing a template with CSS markup was shown. Following this different types of templates such as infobox, navbox, sidebar, informational templates such as Hatnote were shown and discussed. On Wikipedia there is a Special page with a list of wanted templates. The participants studied the page and started making a list of templates they should create or improve. It was found that a good number of templates on Kannada Wikipedia don't have proper documentation in native languages. The participants came to a conclusion that attempts should be made to properly localize the template. During the workshop the participants spent sometime to translate and localize some template documentations.
The workshop was a preliminary one in nature and should be followed up by an advanced workshop.
Image credit

Footnotes
Help:Template on English Wikipedia, accessed 10 August 2017
Special:WantedTemplates on a Wikipedia

The views and opinions expressed on this page are those of their individual authors. Unless the opposite is explicitly stated, or unless the opposite may be reasonably inferred, CIS does not subscribe to these views and opinions which belong to their individual authors. CIS does not accept any responsibility, legal or otherwise, for the views and opinions of these individual authors. For an official statement from CIS on a particular issue, please contact us directly.