Wikipedia workshop for Konkani students conducted in Mangaluru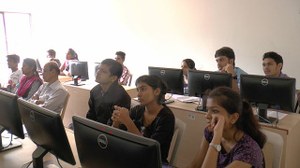 Participants during the event
A two days Wikipedia workshop "introduction to Wikipedia" was conducted at Besant College, Mangaluru. 16 undergraduate and post-graduate students from 3 different colleges participated in the event. Here is a report.
A two day workshop was conducted for students who opted konkani at U.G.& P.G.courses of Mangalore University on 16 and 17 December at Besant Evening College, Mangaluru. This event was jointly organised by Mangalore University Konkani Adhyayana Peeta, and the Dept. of Konkani (M. A.). The Centre for Internet Society, India (CIS, India) and Besant Evening College, Mangaluru were the collaborators. Dr. Devadasa Pai of Karnataka Konkani Sahitya Academy was the primary co-ordinator.  A representative from CIS, India participated in the workshop as a resource person. Harriet Vidyasagar, a Konkani Wikipedia enthusiast and supporter, and Sabrina Hougaard attended the event to groom the participant and share their expertise.

16 undergraduate and post-graduate colleges from 3 different colleges of Mangalore participated in this workshop. The table below shows participation from each college and gender ratio.
College
Participants
Female
Male

 Mangalore University College
 

2

 1
1

St. Aloysius College
 9
4

5

 Milagress Degree College
 5
 3
2

Total
16
8

8

The first day's (16 December) event was started with general introduction to Wikipedia and the Wikimedia movement. The following topics were discussed:
Wikipedia and Wikimedia movement
Importance of Wikipedia as a source of knowledge and information in the World Wide Web (WWW)
Free knowledge movement
Indic language Wikipedias
This was followed by account creation where the participants were asked to create accounts on Wikipedia. After that they were taught about Wikipedia user page, and sandbox page. They were also taught about basic editing (general formatting) on sandbox using Visual Editor.
On the second day (17 December) the participants wrote articles on their Konkani Wikipedia user sandbox page in Kannada script. 16 students wrote more than 25 short articles on their sandbox.
They were also introduced to Wikipedia content translation tool and Wikidata. During the Wikidata session, following a general introduction to Wikidata, the participants were asked to add labels and descriptions in Indian languages such as Kannada, Konkani etc. More than 150 edits were made during this exercise.
This workshop should be followed up by another iteration where the participants will be taught about the next level of editing.
Image credit
Source: Wikimedia Commons, author: User:Outofindia, CC-BY-SA-4.0
The views and opinions expressed on this page are those of their individual authors. Unless the opposite is explicitly stated, or unless the opposite may be reasonably inferred, CIS does not subscribe to these views and opinions which belong to their individual authors. CIS does not accept any responsibility, legal or otherwise, for the views and opinions of these individual authors. For an official statement from CIS on a particular issue, please contact us directly.