Wikimedia Workshop at Ismailsaheb Mulla Law College, Satara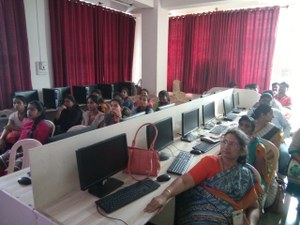 Participants at the workshop/ Image by सुबोध कुलकर्णी/ CCYBYSA4.0
A Wikimedia Workshop was on 4 August 2017 at the Ismailsaheb Mulla Law College in Satara to introduce the Wikipedia and its sister projects to the students.
A Wikimedia Workshop was conducted at the the Ismailsaheb Mulla Law College in Satara. The workshop provided an introduction to students on the various Wikimedia projects. The workshop also aimed to equip them with Wikipedia editing skills. However, owing to time constraints the editing component has been postponed. 
The workshop saw at an attendance of 30 participants, with 20 women participants. The Principal of the institution, Ms. Sunita Pawar said, "Wikipedia is good platform for students to do online assignments. We are eager to integrate it in academics." A discussion on integrating academic assignments with Wikimedia Projects was conducted to develop the basic theme and concepts. 
The meta page of the event can be found here.
The views and opinions expressed on this page are those of their individual authors. Unless the opposite is explicitly stated, or unless the opposite may be reasonably inferred, CIS does not subscribe to these views and opinions which belong to their individual authors. CIS does not accept any responsibility, legal or otherwise, for the views and opinions of these individual authors. For an official statement from CIS on a particular issue, please contact us directly.