Telugu Wikipedia Stall at Rajahmundry Book Fair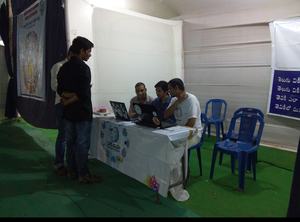 Telugu Wikipedia Stall at the Rajahmundry Book Fair(Image by Pranayraj1985/CC BY-SA 4.0)
Telugu Wikipedia community put up a stall at the three day Rajahmundry Book Fair from 20 - 23 November 2016.
The initiative was supported by The Centre for Internet and Society and NTR Trust. The stall was run by long time community advocates and editors of Telugu Wikipedia. The volunteers distributed pamphlets and explained to the visitors the basics of editing Wikipedia. They distributed a survey to understand current topics of interest in order to update the Telugu wiki pages. Some visitors utilized the expertise of the volunteers and set up Wikipedia accounts at the stalls.
The book fair in the river side city didn't see many takers this time round considering the move to demonetise was announced the previous week. The organizers had not made alternative payment arrangements at such short notice. Volunteer Pranay Raj said, "although there were uncontrollable factors at play, the city has great potential and Telugu Wikipedia plans to expand its editor base in the city through institutional partnerships from schools and colleges."
The views and opinions expressed on this page are those of their individual authors. Unless the opposite is explicitly stated, or unless the opposite may be reasonably inferred, CIS does not subscribe to these views and opinions which belong to their individual authors. CIS does not accept any responsibility, legal or otherwise, for the views and opinions of these individual authors. For an official statement from CIS on a particular issue, please contact us directly.