Telugu Wikipedia Stall at Hyderabad Book Fair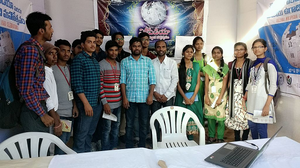 Telugu Wikipedians at the Hyderabad Book Fair stall(Image by: Pranayraj1985/CC BY-SA 4.0)
Telugu Wikipedia community put up a stall at the Hyderabad Book Fair in December welcoming members of the public to join as editors on the regional encyclopaedia.
The Telugu Wikipedia community put up a stall at the 30th edition of the Hyderabad Book Fair from 15th to 26th December, 2016 at the NTR Stadium. Supported by The Centre for Internet and Society, the volunteers were long time Telugu Wikipedia community members. They helped visitors set up Wikipedia accounts and become editors on the free access encyclopedia. They also spoke to the visitors and explained how Wikipedia works and the collaborative efforts undertaken by various language communities in maintaining the regional language wiki pages. Additionally, a survey was conducted to find out what topics of interest are currently trending among the public. The Telugu Wikipedia community aims to take this feedback into consideration in order to update the topics they frequently edit.
Some visitors seemed interested in attending upcoming Wikipedia events and workshops. The organisers welcomed interested members of the public to attend the Hyderabad Wikipedia Monthly meetup on 22nd January, 2017.
The views and opinions expressed on this page are those of their individual authors. Unless the opposite is explicitly stated, or unless the opposite may be reasonably inferred, CIS does not subscribe to these views and opinions which belong to their individual authors. CIS does not accept any responsibility, legal or otherwise, for the views and opinions of these individual authors. For an official statement from CIS on a particular issue, please contact us directly.