Rejuvenating India's Rivers the Wiki Way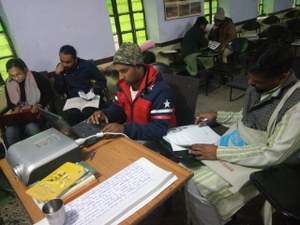 Workshop at Tarun Bharat Sangh (Licensed under CC BY-SA 4.0)
India is faced with a critical challenge when it comes to protecting its river bodies. Various forms of contaminants, industrial effluents, sewage waste, domestic waste, and so on are finding their way to rivers. This takes a toll on human health.
---
As per a Government of India report 42 rivers in India are polluted with toxic heavy metal deposits in them. To mitigate this crisis Tarun Bharat Sangh (TBS), an organization working on rejuvenation of rivers in India began documentation of rivers on Wiki. The work was started by TBS's Maharashtra based group Jal Biradari in Sangli district with the help of Centre for Internet & Society's (CIS-A2K) wing.
The Workshop
Realizing the potential of the project TBS decided to integrate this as training module in their capacity building workshops conducted at Bhikampura in Rajasthan. The first pilot workshop was conducted by CIS-A2K during 22-25 December 2018 at Tarun Bharat Sangh Ashram, Bhikampura, Alwar in Rajasthan for 34 participants from eight states of India. Dr. Rajendra Singh, Maulik Sisodiya and Subodh Kulkarni, CIS-A2K were the facilitators. The objectives behind organizing the workshop was to build an open knowledge resource on water related issues in all Indian languages, document the river basins of India, train volunteers working in the sector to work in Wikimedia projects, open street mapping exercises and photo walks along the river and post free content on Commons and Wikisource projects.
The documentation structure for river basin was decided through participatory process. The participants were divided into 6 groups for working on 6 river basins of Arvari district. The resource material available with TBS in the form of maps, reports, training booklets was used to prepare the schematic maps of each river basin. The water bodies such as ponds, manmade structures like dams were also listed.
Pictured above: Activists during the workshop conducted by TBS in Alwar, Rajasthan in December 2018
After this pre-work, the training on Wikipedia editing started. The participants worked in sandboxes first on their articles. The manual of style, giving offline and online references and categorisation were discussed and practiced on sandboxes. The Commons session started with elaborate discussion on copyrights, licenses and encyclopedic content. The images were uploaded on Commons and used in the articles. The articles in the sandboxes were presented by each working group. Taking into consideration various suggestions, appropriate modifications were done. The finished new articles and the additional content into existing articles were then moved in the main namespace of respective language Wikipedia. TBS has decided to re-license 30 books and training material on river in CC-BY-SA. Participants who attended the workshop have started contributing in various languages.
Participants' Feedback
"Rivers are essential for existence of life in land. Keeping its sanctity and health is very important. The Wikimedia workshop gave an insight on river pollution issues and the importance of reviving them. As Wikipedia is an open platform it can create a larger impact by reaching out to the society." - Username: Mrityunjay1010
"The wiki-workshop on "Rivers on Wiki" has been my maiden experience in the context of generalizing the knowledge for common good. The workshop gave me a lens to see the usage of Wikipedia in regional languages as a medium for environmental consciousness building as well as conservation. Wikipedia as a means for social audit was also another enriching experience in that workshop." - Username: Simantabharati
---
For more information visit the Wikimedia meta page