Wikimedia Workshop on Rivers under Project Jalbodh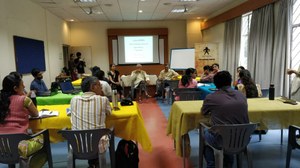 The Indian National Trust for Art & Heritage Pune Chapter is working with various organisations to preserve the natural heritage places like rivers in Pune district of Maharashtra, India. After the presentation of 'Project Jalbodh' by CIS-A2K in River Dialogue organised by INTACH in April 2018, several organisations shown keen interest in collaboration.
Open knowledge creation workshops were organised at four places by different organisations working on river issues. To sustain these efforts and mobilise the larger community to build knowledge on rivers, INTACH has decided to collaborate with CIS-A2K to develop long-term plan. This was the first workshop to develop structure of the project, decide the stakeholders and follow-up action plan for the future. The two day workshop was conducted on 29 & 30 July at INTACH office in Pune. Total 20 participants from seven organisations actively contributed to Wikimedia projects.
Background
As the water crisis and state of rivers is worsening day by day, the citizen's initiatives are taking more efforts to spread knowledge about it. Centre for Internet & Society representative actively participated in the River Dialogue organised by INTACH (Indian National Trust for Art and Cultural Heritage) and SANDRP (South Asian Network of Dams, Rivers and People) on 20–21 April 2018 to introduce the potential of Wikimedia projects to organisations working across Maharashtra state. After this orientation, a follow-up plan is prepared with Prof. Madhav Gadgil in which various groups have expressed their readiness to start content building on water & rivers. Jeevit Nadi organisation took first initiative on 28 May 2018 to train team of activists in open knowledge and Wikimedia Projects. Total 15 activists and researchers from Jeevit Nadi, EcoUniv, Jal Biradari (Tarun Bharat Sangh), Ecological Society, Sagarmitra organisations participated in this workshop.
In the second iteration on 25 July 2018, five participants presented their work, the database and the resources with them. These include photographs, videos, training material and data collected on site. They also worked on category tree and structure of article on river. The media available in the repository were sorted and analysed for uploading. This team has started preparing the database of local issues, maps of rivers and heritage places on the banks for uploading in respective categories.
The third iteration for building content on rivers in Sangli district was organised on 7 December 2018 by Jal Biradari & Tarun Bharat Sangh organisation. In this one day workshop, 11 activists working in Agrani river basin participated. They were trained in basics of Wikipedia editing and uploading on Commons. They worked on category tree of Agrani river basin and structure of articles on water related structures.
The fourth national level iteration was conducted between 22–25 December 2018 at Tarun Bharat Sangh, Bhikampura, Alwar district, Rajasthan for activists of Jal Jan Jodo Abhiyan from eight states. The 30 participants were trained in this four day workshop. They started contributing in various languages.
In collaboration with CIS-A2K, INTACH Pune Chapter has taken initiative to organise two day workshop to build knowledge on rivers in Pune district with various organisations.
Objectives
Many organisations and communities are working for more than 10 years in water sector in an organised way. They have built cumulative knowledge through action and research with an objective to disseminate it to the masses. Hence the 'Project Jalbodh' is being evolved to integrate this approach with the Wikimedia projects for mutually beneficial impact.Knowledge is to be presented in different forms, aspects and in appealing way. The interests and attention of the seeker should be taken into account. Therefore in many areas, the text is to be blended with media, data, graphs, maps etc to give holistic sense of knowledge. The Wikimedia projects can be explored to get this integration.
Facilitators
Supriya Goturkar-Mahabaleshwarkar, Co-convenor & Coordinator, INTACH PUNE CHAPTER
Marathi Wikimedians - Aaryaa Joshi, Kalyani Kotkar
Event Details
Date : 29 & 30 July 2019
Time : 9.30 am to 5.30 pm
Place : Pune, Maharashtra, India
Venue : INTACH Pune office, Kirloskar compound, Erandwane, Pune
Participants :20
---
Day 1
Day one started with introductions by members of organisations - Jeevitnadi (Living River Foundation), Sajag Nagrik Manch, Parisar, Centre for Environment & Education, Jnana Prabodhini, Ecological Society and INTACH. Then workshop conveners Supriya & Subodh explained the background and objectives of the workshop. The concept of 'Project Jalbodh' was elaborated. The keynote address was given by Prof. Madhav Gadgil. He delivered upon the genesis of knowledge in human evolution and need of open knowledge for healthy development of the society. He also discussed the integration of citizen science and Wikimedia projects. The brainstorming on mobilisation of community was done after this address with valuable inputs from Prof. Gadgil.
Introduction to major Wikimedia projects was given in next session. The examples of river and water related content were taken for understanding the context. The agenda for the workshop and the details were finalised through discussion on needs. The participants then started with opening accounts on Wiki followed by basic editing skills and rules of Wikipedia & Commons. They searched for various articles, infoboxes, categories and media related to river available in Wiki projects. The extensive interaction on status of the existing content happened to arrive at gap finding and listing the same. From this thought process, the importance of developing structure for river articles was realised. Then various members with their vast experience collaboratively evolved the structure of article on river in Marathi Wikipedia. According to local context, relevant sections and sub-sections were designed. Separate project page defining this structure was created on Marathi Wikipedia under the Wiki Project Jalbodh. This was the crucial activity for the project. After this session, the organisations conducted the analysis of the content developed by them which is to be contributed in Wikimedia projects. The planning of next day was done in the last session.
Day 2
On the second day, the activity started with uploading images on Commons. Along with this, the encyclopedic content available with the organisations was discussed for giving references. The articles were created in the sandboxes by groups on similar themes. The content was created as per the manual of style. Various skills like advanced search options for finding online references, archiving of url's on Wayback machine of Internet Archive were also acquired by the participants. The relevant media repositories were also explored. The category tree for the rivers was also designed. The detailed discussions on building databases, maps and media with community involvement was conducted. In the final session, the roadmap for future activities was prepared. Three model articles on rivers - Mula, Mutha & Pavana - will be completed in the next two months. Follow-up workshops will be conducted bi-monthly which will be hosted by different organisations. The discussion on campaign - Wiki Loves River - developed enthusiasm among the members. The meeting on this theme will be organised in September to plan the campaign.
---
Read the full report on Wikipedia page
The views and opinions expressed on this page are those of their individual authors. Unless the opposite is explicitly stated, or unless the opposite may be reasonably inferred, CIS does not subscribe to these views and opinions which belong to their individual authors. CIS does not accept any responsibility, legal or otherwise, for the views and opinions of these individual authors. For an official statement from CIS on a particular issue, please contact us directly.