Orientation & Training session for Environmental Activists in Satara on 13th February 2017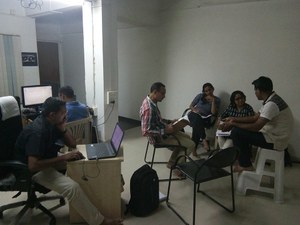 Participants engaged in collaborative editing/ Image By सुबोध कुलकर्णी/ CC BY-SA 4.0
A Marathi Wikipedia Orientation & Training session for Environmental Activists was held in Satara on 13 February, 2017
As part of the ongoing CIS-A2K effort to work and collaborate with communities of interest, a Marathi Wikipedia orientation and training session was held in Satara on 13 February, 2017. The workshop trained environmental activists on basic Wikipedia editing skills. The participants were introduced to Wikipedia as a knowledge resource and were encouraged to contribute to Wiki projects. 
The theme of the workshop was to build resources in the areas of biodiversity and environmental issues on Marathi Wikipedia. The participants were also given orientation regarding contribution to the villages project where they could edit articles about their villages and towns. The three-hour workshop held at Sukale Studio in Satara saw six participants collaboratively creating and editing two articles. The participants were also trained in "smart editing" on their smartphones. 
The link to event page on meta can be found here.
The views and opinions expressed on this page are those of their individual authors. Unless the opposite is explicitly stated, or unless the opposite may be reasonably inferred, CIS does not subscribe to these views and opinions which belong to their individual authors. CIS does not accept any responsibility, legal or otherwise, for the views and opinions of these individual authors. For an official statement from CIS on a particular issue, please contact us directly.