Mini Workshop on Tools: Wikipedia Monthly Meetup, Hyderabad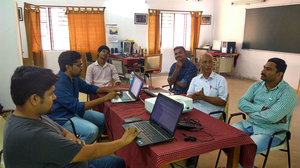 Telugu Wikipedia community members at the Monthly Meetup (Image by: Santhosh Panjala/CC BY-SA 4.0)
Telugu Wikipedia community held its monthly meet-up in Hyderabad on 28 August 2016.
The event was marked by a presentation on quick tools by Pavan Santhosh, Community Advocate and long time member of the Telugu Wikipedia community. He demonstrated the use of PrepBio, a tool that helps create infoboxes on biographical articles. "This make the process of editing and updating edits easier," he said. He also spoke about Wiki ToDo, a tool that helps find articles with specific edits or improvements required. "This ensures that even new editors can contribute to quality improvement on wikis," he pointed out. At the end of the session, the community members engaged in an activity that gave them a hands on insight into using these tools.
The views and opinions expressed on this page are those of their individual authors. Unless the opposite is explicitly stated, or unless the opposite may be reasonably inferred, CIS does not subscribe to these views and opinions which belong to their individual authors. CIS does not accept any responsibility, legal or otherwise, for the views and opinions of these individual authors. For an official statement from CIS on a particular issue, please contact us directly.