Mini Train the Trainer 2018
A mini train the trainer 2018 (Mini TTT 2018) program was organized by CIS-A2K at Jnana Prabodhini & Bhave High School, Sadashiv Peth, Pune on 24 and 25 February 2018. Total 19 active editors from Marathi community participated. Experienced editors from community were also involved in the program.
The objective of the workshop was to develop personality and leadership skills, boost the outreach activities, build cohesiveness and strong relations within the editors, assess the needs of the community and projects, and evolve progress plan.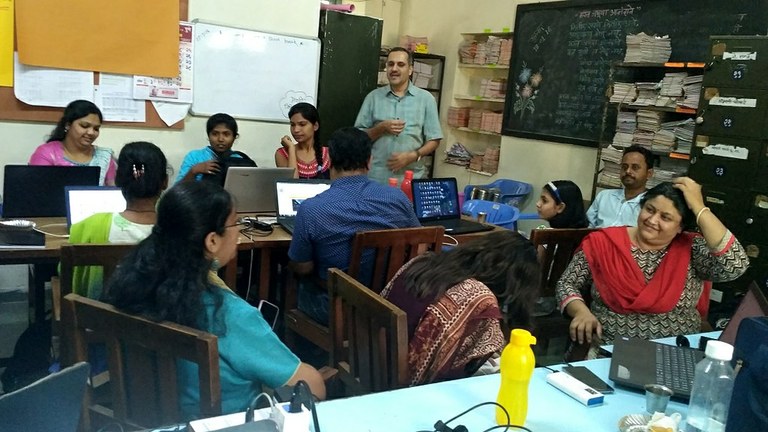 The participants profiles and the expected outcomes were decided on the nature of persons. They were divided into following categories and inputs were designed accordingly -
TTT Alumni - 4 people in the group. Interest areas are - History, Culture, Indology, Literature, Gender, Sociology, Health, Arts & Culture, Rural development issues, Wikisource, Sports, People.
They are expected to work as mentors for new editors; Wikipedia pillars; Copyright issues; Should be able to do analysis and evolve improvement measures; Integration of Wikimedia Projects; Work for new developments in Wiki projects; Global engagement programs
Facilitators at Institutional & organisational Partners - 12 people in the group. From - Dayanand College, Solapur ; Soni College, Solapur ; T.C.College, Baramati; BAM University, Aurangabad; Vigyan Ashram, Pabal; Jeevan Jyoti Women Emp. Centre, Velhe; Jnana Prabodhini Women Emp.Department ; Jnana Prabodhini Research Centre, Pune ; Wikisource Internship Program at Garware college, Pune
They are expected to learn advance skills, tools & gadgets for good editing; Wikipedia pillars; Copyright issues; To conduct workshops for student community; Design internships and academic assignments for WEP; To develop thematic groups; Quality improvement; Tracking process and progress using outreach dashboard
Independent new active editors - 4 people in the group. Interest areas are - Language, Biographies,Science, Technology, Development issues, Drama, Films, Music, Finance, Commerce, Tourism, Commons
They are Working on category-wise content generation; Wikipedia pillars; Copyright issues; Building communities of interest; reference tools
Topics covered
Advanced tools and gadgets
Quality issues in Wikipedia
Event planning and reporting
Commons - Copyright, categories
Wikidata
Wikisource - Copyright, OTRS, OCR
Outreach dashboard
Global campaigns
The views and opinions expressed on this page are those of their individual authors. Unless the opposite is explicitly stated, or unless the opposite may be reasonably inferred, CIS does not subscribe to these views and opinions which belong to their individual authors. CIS does not accept any responsibility, legal or otherwise, for the views and opinions of these individual authors. For an official statement from CIS on a particular issue, please contact us directly.