Marathi Wikisource & Digitisation Workshop
A Marathi Wikipedia workshop was organized by the Centre for Internet & Society (CIS-A2K) team on February 17 and 18, 2017. Maharashtra Granthottejak Sanstha, Maharashtra Knowledge Corporation Limited and Jnana Prabhodini were the co-organizers. The discussions were held at Jnana Prabodhini, Sadashiv Peth, Pune on February 17 and C Trade Tower, Senapati Bapat Road, Pune on February 18, 2017.
Objectives of the Workshop
To build awareness about the strengths of Marathi Wikisource as a knowledge reference resource
To connect active community in Marathi language area
Networking with organisations with manuscripts,old reference books and gazetteers
To develop liaison with libraries,museums,research institutes,social institutions and knowledge enterprises
To develop methodology for listing,selection and prioritisation of material
To acquire skills for digitisation, running OCR tools,uploading on archives and Wikisource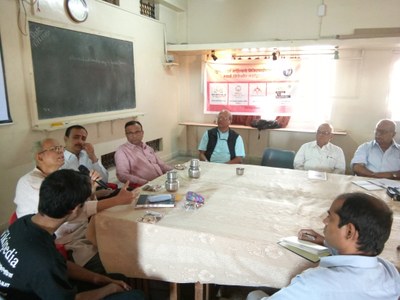 Madhav Gadgil speaking
Background
Maharashtra Granthottejak Sanstha (MGS),a pioneering organisation working for the preservation of Maharashtra's linguistic and cultural heritage. It was founded in Pune, India in 1894. Being an important archive for the preservation of many hundreds of years old manuscripts and historical artifacts from the Peshwa era, the institution is open to public for study and research. In a noble initiative to celebrate 121st anniversary of MGS, Pune the board members have decided to re-license 1000 books to free license and to donate them to CIS-A2K in order to be digitised and uploaded on Marathi Wikisource project. These books are the single largest content donation made by an organisation in the history of Marathi Wikimedia projects. These books when digitised and uploaded will prove to valuable resources both for researchers and general readers. MKCL (Maharashtra Knowledge Corporation Limited), a reputed organisation is extending manpower support for the scanning of the books. Till date 2700 books are digitised and 900 books are uploaded on Internet Archive. Further process of uploading on Wikisource is to be started. With this view, it was decided to organise this workshop and include other libraries also, who wish to take up such project.
Organizations
35 Representatives from following libraries and museums in Maharashtra attended session at Jnana Prabodhini.
Pradnya Pathashala Mandal,Wai
Deccan College,Pune
Jnana Prabodhini,Pune
Karveer Nagar Wachan Mandir,Kolhapur
Lokmanya Tilak Smarak Wachan Mandir, Chiplun
Vedshastra Vidya Sanwardhan Mandal,Karad
Rajwade Sanshodhan Mandal, Dhule
Sangli Nagar Wachanalay, Sangli
Vigyan Ashram,Pabal
---
For more info see the originally published piece on Wikimedia Blog
The views and opinions expressed on this page are those of their individual authors. Unless the opposite is explicitly stated, or unless the opposite may be reasonably inferred, CIS does not subscribe to these views and opinions which belong to their individual authors. CIS does not accept any responsibility, legal or otherwise, for the views and opinions of these individual authors. For an official statement from CIS on a particular issue, please contact us directly.