Marathi Wikipedia Workshop in Sangli, Maharashtra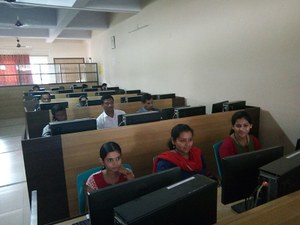 Participants at the workshop/ Image By सुबोध कुलकर्णी/ CC-BY-SA 4.0
A Marathi Wikipedia workshop was recently held in Sangli, Maharashtra
An introductory Marathi Wikipedia workshop was recently held at CSIBER Trust's V.P. Institute of Management Studies and Research, Sangli, Maharashtra. The workshop aimed to introduce Wikipedia and its sister projects to the participants. 
In an effort to implement innovative projects for the students, in March 2017, the institution decided to integrate Wikimedia Projects and academic assignments for capacity building of students and faculty. The implementation started with the Wikipedia edit-a-thon on Environment Management at CSIBER Institute in Kolhapur on 30th March. The Institute in Sangli has also adopted the concept for this academic year. This workshop was organised for faculty and selected students who were taught basic editing skills on Wikipedia, searching for the concerned articles, categorisation and translation from other language wikis. Another focus of the workshop was to integrate academic assignments with Wikimedia projects.
The views and opinions expressed on this page are those of their individual authors. Unless the opposite is explicitly stated, or unless the opposite may be reasonably inferred, CIS does not subscribe to these views and opinions which belong to their individual authors. CIS does not accept any responsibility, legal or otherwise, for the views and opinions of these individual authors. For an official statement from CIS on a particular issue, please contact us directly.