Marathi Wikipedia Workshop at Solapur University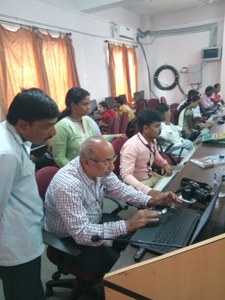 Participants at the workshop/ सुबोध कुलकर्णी/ CCYBYSA4.0
15 September
A Marathi Wikipedia Workshop was held at the Department of Mass Communications at Solapur University. The workshop aimed to introduce Wikimedia and its sister projects to the students. The workshop comprised 25 participants with 10 female attendees.
Sharing their thoughts after the event, the participants were enthuse. Says Priyanka Lagshetti, "I never imagined that I can contribute to Wikipedia. I worked on various media related articles." Another participant, Ambadas Bhasake added, "This workshop showed us a innovative way to use internet productively and constructively" 
While 19 new editors joined Wikipedia, participants worked on 60 articles and made around 90 edits. 15 images were added to Commons and into articles.
The meta page of the event can be found here.
The views and opinions expressed on this page are those of their individual authors. Unless the opposite is explicitly stated, or unless the opposite may be reasonably inferred, CIS does not subscribe to these views and opinions which belong to their individual authors. CIS does not accept any responsibility, legal or otherwise, for the views and opinions of these individual authors. For an official statement from CIS on a particular issue, please contact us directly.