Marathi Wikipedia Workshop at MGM Trust's College of Journalism and Mass Communication, Aurangabad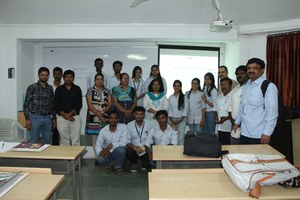 Participants at the workshop/ Image by सुबोध कुलकर्णी / CCBYSA4.0
A Marathi Wikipedia Workshop was recently held at the MGM Trust's College of Journalism and Mass Communication on 11 August 2017.
A Marathi Wikipedia workshop was recently conducted at the MGM Trust's College of Journalism and Mass Communication at Aurangabad. The workshop aimed to introduced Marathi Wikipedia to the students of the college and equip them with the process of editing the same. The workshop was attended by 10 female participants and 15 male participants. 
"It was happiest moment for me, when I created new article on Pashmi, [a] species of dog. I added [an] image also." says Shivani Joshi a participant at the workshop. While 21 new editors were introduced to Wikipedia, 60 articles were improved and 15 images added. Another participant, Randhir Patil who added content on water-related articles says, "This content can be used as training material by field workers.
The meta page of the event can be found here.
The views and opinions expressed on this page are those of their individual authors. Unless the opposite is explicitly stated, or unless the opposite may be reasonably inferred, CIS does not subscribe to these views and opinions which belong to their individual authors. CIS does not accept any responsibility, legal or otherwise, for the views and opinions of these individual authors. For an official statement from CIS on a particular issue, please contact us directly.