Marathi Wikipedia Edit-a-thon at 'Swa'-Roopwardhinee, Pune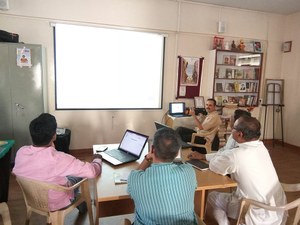 Participants being introduced to Marathi Wikipedia/Image By सुबोध कुलकर्णी/ CC BY-SA 4.0
A Marathi Wikipedia Edit-a-thon was held at 'Swa'-Roopwardhinee, Pune on 7th February 2017
 A Marathi Wikipedia edit-a-thon conducted by CIS-A2K in partnership with 'Swa'-Roopwardhinee, an organisation working in the field of education and social work was held on 7 February, 2017. The aim of the workshop was to train participants from 'Swa'-Roopwardhinee on the basics of Wikipedia editing. The theme of the edit-a-thon was to build resources on education and community development on Marathi Wikipedia. Six participants took part in the three hour workshop conducted at the 'Swa'-Roopwardhinee premises. 
This edit-a-thon is part of CIS-A2K's ongoing effort to engage communities of interest to partner and collaborate on contributing to Wikipedia so as to utilize their domain knowledge on the free encyclopaedia. Five articles were created and edited by participants. 
The link to event page on meta can be found here.
The views and opinions expressed on this page are those of their individual authors. Unless the opposite is explicitly stated, or unless the opposite may be reasonably inferred, CIS does not subscribe to these views and opinions which belong to their individual authors. CIS does not accept any responsibility, legal or otherwise, for the views and opinions of these individual authors. For an official statement from CIS on a particular issue, please contact us directly.