Marathi Wikipedia Edit-a-thon at Sangli, Maharashtra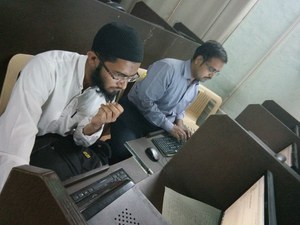 Participants at the Willingdon College edit-a-thon/ Image by सुबोध कुलकर्णी/ CC-BY-SA 4.0
A Marathi Wikipedia Edit-a-thon was conducted at Willingdon College, Sangli on 18 January, 2017
A Marathi Wikipedia edit-a-thon was conducted in collaboration with Rajya Marathi Vikas Sanstha at Willingdon College on 18 January, 2017. The goal of the workshop was to begin the building of resources in the field of linguistics on Marathi Wikipedia. To begin with, the edit-a-thon introduced the participants to editing Wikipedia and contributing to Wiki projects. With about 50 participants(of which around 6 were female), the three-hour-long edit-a-thon involved the post-graduate and research students of the Willingdon College.  
The edit-a-thon conducted at the Marathi Language Computer Lab of the College also focused on creating/editing Wikipedia pages related to Marathi literature and language. Extensive discussion on these issues was also conducted to develop the concept and theme of the edit-a-thon. While participants were taught basic Wikipedia editing, they were also trained in searching for relevant articles, categorisation and translation from other language Wikipedias. 
The workshop received local media coverage by Sakal, a Marathi daily. You can read the article here.
Link to event page on meta can be found here.
The views and opinions expressed on this page are those of their individual authors. Unless the opposite is explicitly stated, or unless the opposite may be reasonably inferred, CIS does not subscribe to these views and opinions which belong to their individual authors. CIS does not accept any responsibility, legal or otherwise, for the views and opinions of these individual authors. For an official statement from CIS on a particular issue, please contact us directly.