Marathi Wikipedia Edit-a-thon at Rajarshi Chhatrapati Shahu College, Kolhapur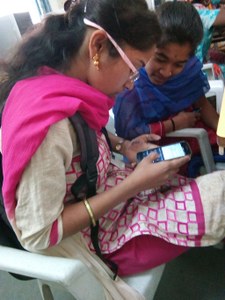 Smart editing; participants editing on the Wikipedia app/ Image By सुबोध कुलकर्णी/ CC BY-SA 4.0
A Marathi Wikipedia Edit-a-thon was conducted at Rajarshi Chhatrapati Shahu College, Kolhapur on 23 January, 2017.
A Marathi Wikipedia edit-a-thon was conducted at Shivaji's University's affiliate Rajarshi Chhatrapati Shahu College in Kolhapur on 23 January, 2017. The edit-a-thon aimed to introduce Wikipedia to the students of the College and teach them basic editing skills. The students were trained in categorisation and translation from other language Wikipedias. In addition, the students were taught smart editing on their mobile phones using the Wikipedia app.
The theme of the edit-a-thon was to build resources on Marathi Wikipedia in the field of commerce, so as to keep it relevant to the students who study related subjects at the college. The three-hour-long edit-a-thon conducted at the Computer Lab of the college, involved 50 participants, a mix of male and female students. 
The link to the event page on meta can be found here. 
The views and opinions expressed on this page are those of their individual authors. Unless the opposite is explicitly stated, or unless the opposite may be reasonably inferred, CIS does not subscribe to these views and opinions which belong to their individual authors. CIS does not accept any responsibility, legal or otherwise, for the views and opinions of these individual authors. For an official statement from CIS on a particular issue, please contact us directly.