Marathi Wikipedia Edit-a-thon at Dalit Mahila Vikas Mandal, Satara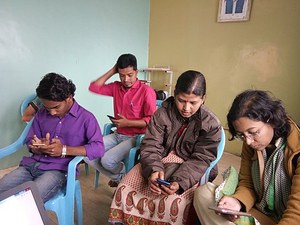 Participants editing using mobile phones at the event/ Image by सुबोध कुलकर्णी/ CCBYSA4.0
A Marathi Wikipedia Edit-a-thon was conducted at the Dalit Mahila Vikas Mandal in Satara on 4 August 2017. The organisation, working on issues of women's rights, gender, justice and violence against women, was given an introduction to editing on Wikipedia. Voluntary organisation Dalit Mahila Vikas Mandal is eager to implement innovative projects for the students and field activists. It has decided to integrate Wikimedia Projects and training modules for capacity building of students and movement volunteers. To get the overall introduction of Wikimedia Projects and basic skills, this workshop was organised for faculty and selected students. The edit-a-thon was attended by 10 female and 5 male participants. 
Sana Patel, a participant emphasises, "I realised the need to contribute gender related content. It is very important to write about women's issues and laws'. The edit-a-thon resulted in 13 new editors discovering Wikipedia for the first time. 20 articles were improved and five images were uploaded. A follow-up workshop on building content on women-related issues has been planned with the Dalit Mahila Vikas Mandal as well as other like-minded organisations in Satara. Onkar Tapase, a participant opines, "as a journalist, I see a great potential to contribute" 
The meta page of the event can be found here.
The views and opinions expressed on this page are those of their individual authors. Unless the opposite is explicitly stated, or unless the opposite may be reasonably inferred, CIS does not subscribe to these views and opinions which belong to their individual authors. CIS does not accept any responsibility, legal or otherwise, for the views and opinions of these individual authors. For an official statement from CIS on a particular issue, please contact us directly.