Mapping Institutions of Intellectual Property (Part A): India's National Programme on Intellectual Property Management
This blog post discusses India's National Program on Intellectual Property Management, including the establishment of a National Institute of Intellectual Property Rights.
---
On the 21st of February, 2014, the Planning Commission and the Ministry of Human Resource Development ("MHRD"), Government of India organized a Stakeholders Consultation at New Delhi ("the Consultation"). I attended this meeting on behalf of CIS. The discussion was centred around devising a strategy for India's National Program on Intellectual Property Management under our 12th Five Year Plan (2012 to 2017). On the agenda were two key issues:
Evaluating and rethinking the role of IPR Chairs established by the MHRD
Establishing a National Institute of Intellectual Property Rights
Pawan Agarwal, Advisor, Higher Education, Planning Commission, Government of India made a detailed presentation on both of these issues. The key parts of his presentation and the ensuing discussions have been reproduced below.
Presentation and Ensuing Discussions
The diagrams in this section correspond to those in Pawan. Agarwal's presentation.
Ecosystem
In Figure 1, the proposed structure of the national intellectual property system has been outlined. Those government departments and ministries that would have a role to play have been identified, as well as the functions expected to be performed.
In the discussion that followed it was observed that traditional knowledge should also be included within this ecosystem. The Department of Industrial Policy and Promotion ("DIPP") could coordinate and seek inputs from the Ministry of Culture and the Ministry of Health and Family Welfare.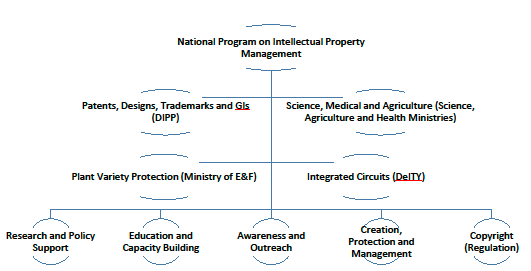 Figure 1
Education: Programs and Courses
Figure 2 details the proposed structure of IPR education, including courses, financial aid and the nature of the program. Members attending the Consultation were of the opinion that having ten centres for doctoral education was an ambitious target. They were also of the opinion that there was need to integrate IPR education with more courses, for instance, MBA and MSc.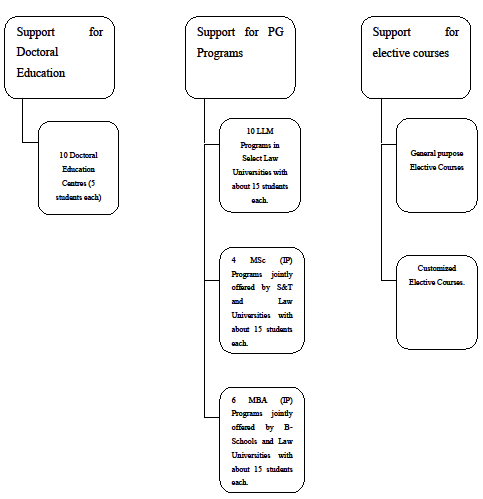 Figure 2
Education: Various Elements
Figure 3 deals with other elements of the IP education universe- curriculum development (envisaged as a joint effort), faculty development (of selected faculty) and funding. Various suggestions emerged on the role of the IP Chairs. This has been examined in greater detail subsequently in this blog post. A key suggestion was made regarding the establishment of more law schools in the IITs, along the lines of the Rajiv Gandhi School of Intellectual Property Law at the Indian Institute of Technology ("IIT"), Kharagpur.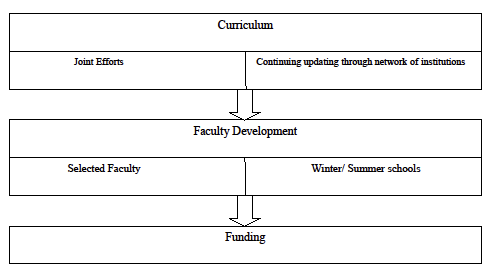 Figure 3
Research and Policy Support
Figure 4 lays out the details of the research and policy support to be provided by the Government towards developing this IPR ecosystem. The Government seeks to achieve this through the existing institutions of the IP Chairs, by way of awarding fellowships and research grants. Once again, concerns and questions were raised regarding the role of MHRD IP Chairs, which will be discussed subsequently in this blog post.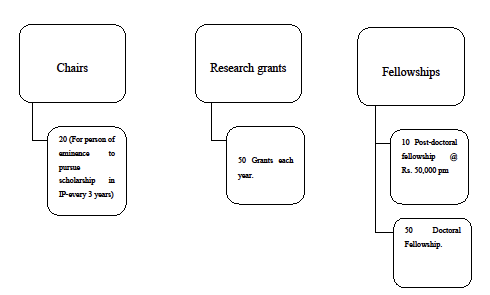 Figure 4
Training & Capacity building
Training and capacity building has been visualised on two levels- basic awareness building about intellectual property rights in institutions of higher education and on the advanced level, dealing with specialised courses on trademark/patent drafting or technology licensing, among others.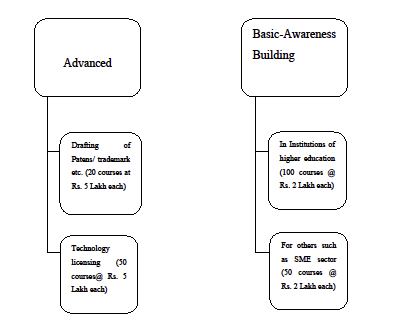 Figure 5
Creation/ Protection and Management
For the creation, protection and management of intellectual property, a two pronged approach has been envisaged- the establishment of cells for the management of intellectual property in institutions of higher education and an increased focus on patents, including the creation of incentives for patenting for researchers. Figure 6 lays out the scheme.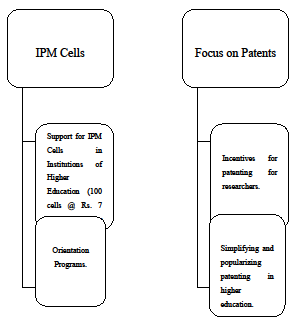 Figure 6
National/ Regional Centres/ Chairs
This program on intellectual property outlines a proposal for the establishment of one national centre, five regional centres and twenty chairs, with a distinct role outlined for each. Details are available in Figure 7.

Figure 7
Governance
The National Program on intellectual Property Management lays out a three tiered governance structure, headed by the National Steering Committee on IPR, assisted by the Advisory and Project Approval Committees, with five Regional Committees constituting the final tier. This has been represented in Figure 8.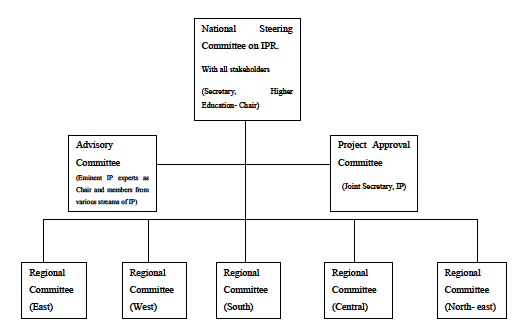 Figure 8
Funding Arrangements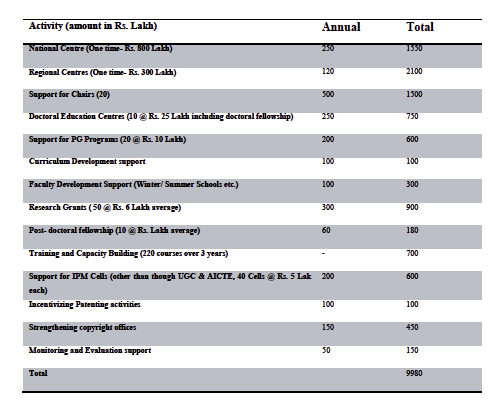 Figure 9
The discussion that occurred after Pawan Agarwal's presentation was centred around the issues of intellectual property education, revisiting the role of the MHRD IPR Chair Professor and on the establishment of a National Institute of Intellectual Property Rights.
Intellectual Property Education
On a broader level, the Consultation dealt with the subject of intellectual property education, which the proposed plan envisaged on a generic basic level as well as a more advanced technical level. Narendra Sabharwal, former Deputy Director General, World Intellectual Property Organization ("WIPO") was had a three pronged opinion on intellectual property education- first, that intellectual property education had to be mainstreamed, and that this mainstreaming should be a part of the vision and strategy of any national plan on intellectual property; second, that intellectual property education should be used to synergise and encourage the creation of more IP assets and third that the proposed national institute should play an advisory role in the intellectual property education framework.
Evaluating and Rethinking the Role of IPR Chairs Established by the MHRD
Background
The MHRD has, under the Scheme for Intellectual Property Education, Research and Public Outreach ("the Scheme"), established twenty IPR Chairs in various universities and other institutions of higher learning across the country. According to the MHRD IPR Chairs website, six of these Chairs have been set up in Universities (University of Delhi, University of Madras, Tezpur University, CUSAT- Kochi, JNU- Delhi and the Delhi School of Economics); five in National Law Universities (NLSIU- Bangalore, NALSAR- Hyderabad, NLU- Jodhpur, NLIU- Bhopal and WBNUJS- Kolkata); six in the Indian Institutes of Technology (IIT- Delhi, IIT- Madras, IIT- Kanpur, IIT- Kharagpur, IIT- Bombay and IIT- Roorkee) and three in the Indian Institutes of Management (IIM- Bangalore, IIM- Kolkata and IIM- Ahmedabad).
With the purpose of creating awareness among the "general public intelligentsia etc. on IPR Copyright and WTO Studies"[1] , the Scheme has been implemented with the objectives of encouraging the study of intellectual property rights in universities and other institutions of higher learning and developing and encouraging study in specialized courses of IPR; creating awareness about IPRs; organizing activities such as seminars and workshops for IPR awareness; creating knowledge resources, developing policy inputs and negotiating strategies and course awareness- all on WTO matters and evolving strategies of Regional Cooperation and Regional Trading Agreements. Expenditure under the Scheme may be incurred by the MHRD (directly or indirectly) for a wide array of purposes including inter alia, the institution of "Chairs" for IPR Studies for higher education and "also on WTO Studies" (sic.).
At the Consultation
There was a general consensus on the need to restructure the existing 'MHRD Chair' institutions and questions were raised regarding their longevity and the sustainability. Veena Ish, Joint Secretary, Department of Higher Education, MHRD, Government of India, spoke of the need to strengthen the existing IPR Chairs and bring about changes in the funding scheme. She also sought inputs on what form and structure the institutions should adopt.
Faculty members of various educational institutions present at the meeting were of the opinion that there was an urgent need to set norms clarifying the role of Chairs. Out of the various suggestions put forth, some of them were as under:
Specify the number of hours (if any) that a Chair was expected to teach. This proved to be a contentious issue at the meeting, with various members of the faculty raising questions on how one was to balance teaching requirements with research and policy feedback obligations.
Envisage the role of the Chair as that of a mentor who would not teach except for the occasional guest lecture, but would guide younger faculty in teaching. The Chairs would then instead produce at least three research outputs in a year based on topic inputs from the National Institute/Centre for Intellectual Property Rights. These research outputs would then act as policy inputs to the government.
The Chair would liaison with industry, academia and policy makers to identify issues of policy concern and research interest.
The institution of the MHRD Chair should be delinked from the university set up. Chairs should be appointed directly by the MHRD through a transparent and accountable process, distinct from the present state of affairs where the Vice Chancellors of universities were allowed to exercise discretion in appointments.
Establishment of a National Institute of Intellectual Property Rights
Context
The present circumstances that might necessitate the establishment of a National Institute of Intellectual property Rights were highlighted at the Consultation by D.V. Prasad, Joint Secretary, Department of Industrial Policy and Promotion ("DIPP"), Ministry of Commerce and Industry, Government of India. He said that there was a need for a nodal agency for World Intellectual Property Organization ("WIPO") matters. He also said that there was a need for a body to focus on government policy and provide policy inputs to the DIPP and other departments and ministries working on intellectual property law and policy issues. At the moment, he said, there were no formal mechanisms in place though which the DIPP sought policy input, and instead relied on basic inputs from paid external consultants.
At the Consultation
The discussion at the Consultation pertained to the form and functions of this proposed institution. D.V. Prasad emphasised that this institution ought not to become an academic exercise or a university and that the focus should remain policy inputs to the government. This view was echoed by Shilpi Jha of the Confederation of Indian Industries. V.C .Vivekanandan, MHRD Chair Professor, NALSAR University of Law, Hyderabad, was also in agreement with D.V. Prasad and Shilpi Jha, and said that the proposed institution ought to be a 'stand alone model'. Narendra Sabharwal envisaged this institution as a think-tank that would research on legal and policy issues and international relations on emerging areas of technology. This would be distinct from university research undertaken by MHRD Chairs, although some of the university research ought to feed into the think-tank. N.S. Gopalakrishnan, former MHRD Chair Professor at CUSAT, Kochi was of the opinion that this proposed institution ought not to be within the aegis of the University Grants Commission. Further, he said that it was critical to develop capacity for policy research within the country, but until that time, it was critical to attract people from both within as well as outside India to undertake policy research. Sunita Tripathy, Assistant Professor, Jindal Global Law School was also of the opinion that there was a need to build capacity for policy research in India.
Concluding Observations
From the conversation at the Consultation it seems evident that there is a need to revisit the institution of the MHRD Chair Professor, but what remains moot is the form that it should take. The viability of the proposed national institute would also have to be studied in further detail, against similar models in other countries.
This is an exercise that we shall continue to undertake in subsequent blog posts as a part of this series of mapping institutions of intellectual property.
---
[1].See Scheme for Intellectual Property Education, Research and Public Outreach, available at http://copyright.gov.in/Documents/scheme.pdf (last accessed 03 June, 2014) at page 1.
The views and opinions expressed on this page are those of their individual authors. Unless the opposite is explicitly stated, or unless the opposite may be reasonably inferred, CIS does not subscribe to these views and opinions which belong to their individual authors. CIS does not accept any responsibility, legal or otherwise, for the views and opinions of these individual authors. For an official statement from CIS on a particular issue, please contact us directly.