Indian Language Wikipedia Statistics (September 2012 – April 2013)
The Access to Knowledge team carried out a quantitative analysis to identify trends and growth patterns in Indian Language Wikipedias over the time period from September 2012 to April 2013.
It is difficult for the CIS-A2K programme to either take direct credit for the growth or direct blame for the lack of it in the Indian language Wikimedia projects. However, we believe that we have been one of the factors — and sometimes a key factor — in impacting the growth of the Wikimedia projects and communities in India since the commencement of the project.
Though the A2K programme has done some amount of work with almost all Indian language Wikipedias, the A2K team has had relatively more involvement in 10 Indic languages: Assamese, Bengali, Gujarati, Hindi, Kannada, Malayalam, Marathi, Odia, Punjabi and Telugu.
In addition to this based on the various outreach work done by A2K we have attempted to present an analysis of direct new Wikipedia users that have emerged in languages impacted by the A2K programme, keeping in mind that community mobilisation will always be an autonomous activity to some extent.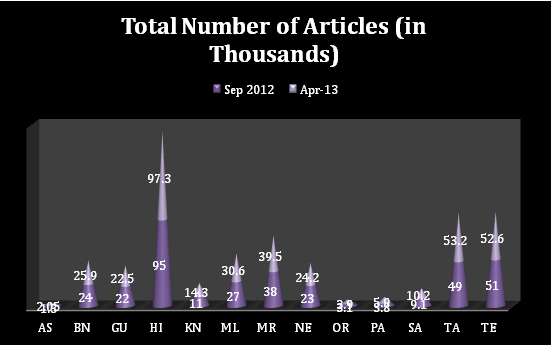 Graph 1: Growth of Articles in Indian Language Wikipedias from September 2012 to April 2013
The growth momentum in Indian languages over the eight month period from September 2012 to April 2013 looks healthy.
Some language Wikipedias have been growing at a phenomenal rate than others in terms of percentage change since September 2012.
Assamese, Punjabi, Kannada and Odia Wikipedias have a growth rate of 58 per cent, 55 per cent, 30 per cent and 26 per cent respectively. These were the top four Indian language Wikipedia projects during the eight month period.
In terms of absolute number of articles, Tamil, Malayalam, Kannada and Hindi Wikipedias have grown by about 4,200; 3,600; 3,300; and 2,300 articles respectively.
However, given the small size of the Wikipedia communities in Assamese, Punjabi, Kannada and Odia (as given in Graph 2 below) the growth achieved by them is much commendable and all efforts have to be put to ensure that this momentum continues by strengthening these communities and also expanding them.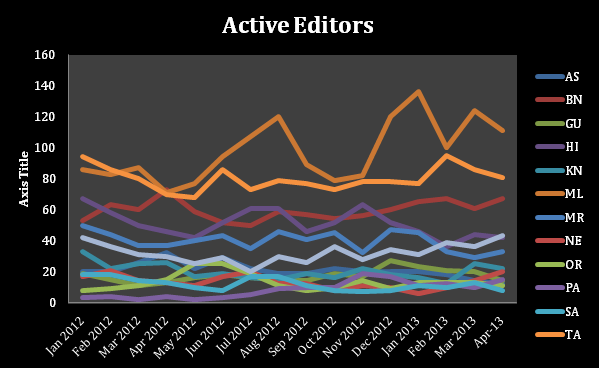 Graph 2: Active Editors in Indian Language Wikipedias from September 2012 to April 2013
There is a fluctuation in the number of active editors in majority of the Indian language Wikipedias, except for Punjabi Wikipedia, which has seen a consistent growth. Starting from July 2012, the Wikimedia India Programs Team began working with the Punjabi community, an activity which we have continued at the A2K programme.
The active editors on Hindi, Marathi and Sanskrit Wikipedias have been consistently coming down, which is a cause of concern.
It is important to note that Kannada and Telugu Wikipedias where the number of Active Editors were in a declining trend as of September 2012 have shown a remarkable turnaround. The A2K programme has spent the last 3-4 months working closely with both the Kannada and Telugu communities.
Overall the active editors on Malayalam Wikipedia have crossed the 100 mark numerous times, making it the first Indian language Wikipedia to reach this benchmark.
Looking at the trends Tamil Wikipedia may soon reach the 100 active editor mark.
Even Bengali Wikipedia community could cross 100 active editors if concerted efforts are put in.
The Assamese Wikipedia, which received support from A2K programme until January 2013, had a consistent active editor population which was around 20 people. However, once the support from the A2K programme dwindled a declining trend (since February 2013) has set in. This is worrying as it gives rise to the possibility of building dependencies through the A2K programme. Going forward we need to address this and rectify by creating self-sustaining momentum in our outreach work that lasts beyond our involvement.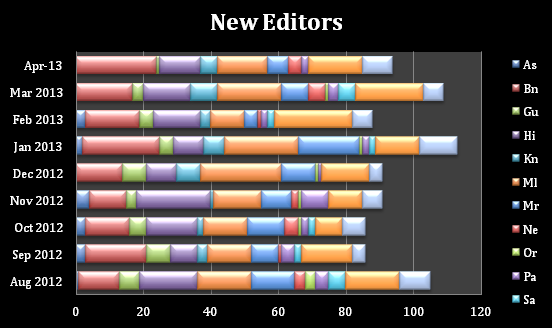 Graph 3: Monthly growth of New Editors on Indian Language Wikipedias from September 2012 to April 2013
On an average 96 new editors have joined Indian language Wikipedias every month.
Bengali, Hindi, Malayalam and Tamil Wikipedias have consistently seen more than 10 new editors joining every month.
Assamese, Odia and Sanskrit Wikipedias did have many new editors joining.
A total of 673 new people have become editors for Indian language Wikipedia since September 2012.
However, the conversion rate of new editors into active editors is still a challenge across all Indian language Wikipedias.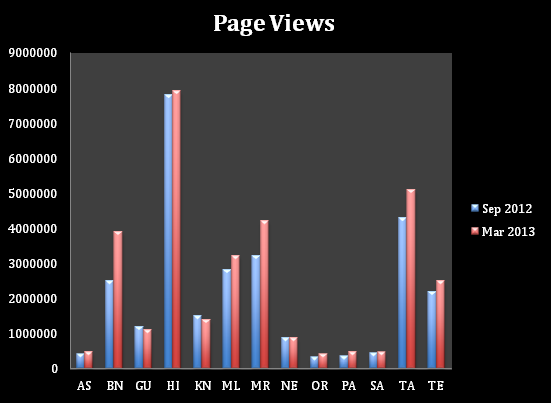 Graph 4: Snapshot of "Page Views" of Indian Language Wikipedias in September 2012 & March 2013
Overall the "Page View" trends of Indian Language Wikipedias look positive.
Bengali, Odia and Punjabi Wikipedias have shown the highest percentage growth in page views since August 2012.
In absolute numbers Bengali Wikipedia has seen a spectacular growth of 14,00,000 
page-views, Marathi and Tamil Wikipedias witnessed a growth of about 10,00,000 and 8,00,000  page-views respectively.
These clearly indicate the demand for knowledge and information in Indian languages on the internet.
In the below given Graph 5, we have also looked at the direct impact the A2K programme had in cultivating new editors on Indian language Wikipedias through various outreach programmes conducted during September 2012 to April 2013.
It should be noted that a total of 1,275 participants were reached out by the A2K programme. However, the username data for more than 700 participants could not be ascertained, due to inefficient data collection and input. This includes participants giving wrong usernames, trouble with the handwriting  of some of the participants, etc. We have already taken note of this issue and have put in measures to efficiently capture the new user data. Hence, we have only presented an analysis of 558 participants, whose usernames are valid.
Of this it can be noted that more than 120 users have done more than 5 edits, which is 21 per cent of the participants. Further, 24 participants have done more than 100 edits on English and various Indian language Wikipedias, which constitutes 4 per cent of the total participants that the A2K programme has reached out to.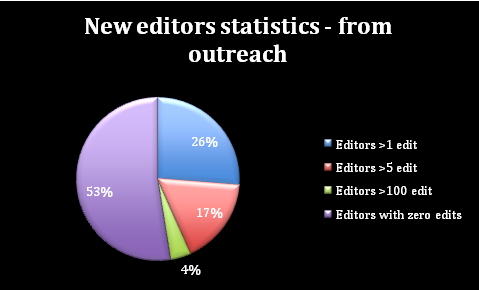 Graph 5: Snapshot of "New editors from outreach" of English & Indian Language Wikipedias in September 2012 and March 2013
The views and opinions expressed on this page are those of their individual authors. Unless the opposite is explicitly stated, or unless the opposite may be reasonably inferred, CIS does not subscribe to these views and opinions which belong to their individual authors. CIS does not accept any responsibility, legal or otherwise, for the views and opinions of these individual authors. For an official statement from CIS on a particular issue, please contact us directly.