South Asia's Largest Wikimedia Conference Kicks Off in India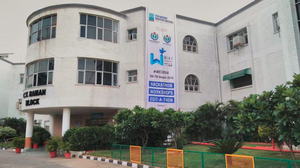 Wikimedia Conference in India
Wiki Conference India 2016, the largest gathering of the contributors of Wikipedia (the multilingual online encyclopaedia) and its sister projects called Wikimedia projects, begins August 5 in Landran, in the Indian state of Punjab.
The blog post was published by Global Voices on August 5, 2016.
---
The conference returns five years after its first iteration in 2011. This year's event is focused on bringing the contributor communities of South Asian and English-language Wikimedia projects from the Indian subcontinent under one roof.
A few hundred participants including 100 scholarship holders from India, Pakistan, Nepal, Bangladesh and Sri Lanka will meet at the Chandigarh Group of College campus, where the conference is being held. Organizers have planned a series of presentations, talks and workshops—related to major topics like gender bias in Wikipedia, technology, global reach, education, volunteer leadership building and engagement and program design—to occupy participants for all three days.
For the separate technical sessions, a pre-event needs assessment survey was conducted widely to collect input about the technical challenges that volunteer contributors are facing. A hackathon is in the works to address some of the major technical challenges of different language communities.
The Wikimedia community in South Asia as a whole and the Wikipedia community, both of which rely on volunteers, are creating a massive repository of freely licensed content in the Indian languages on the Internet. Currently Wikipedia itself is available in about 293 languages. Other Wikimedia projects—Wikisource, a free library; Wiktionary, a multilingual online dictionary; and Wikimedia Commons, the world's largest media repository housing hundreds and thousands of images, audio, video and other media files—will add a few hundred more projects to this list.
Some of the noted guests who are addressing the gathering include Wikimedia Foundation's board member Nataliia Tymkiv, the organization's newly promoted Executive Director Katherine Maher, Punjabi-language poet Surjit Patar, and Internet freedom advocate and Centre for Internet and Society's Executive Director Sunil Abraham.
A Wikipedia edit-a-thon has been running for about a month prior to the conference in 12 Indian language Wikipedias and one European language Wikipedia (Ukrainian Wikipedia). The main languages in this edit-a-thon are Bengali, Hindi, Gujarati, Kannada, Konkani, Malayalam, Odia, Punjabi, Tamil and Telugu. The focus of this sprint is to expand the content reach of Wikipedia on Punjab, Punjabi people, and their language and culture as a symbolic gesture to show gratitude to Punjab where the event is happening. Articles about Punjab or Punjab people in other local languages will help many local readers of Wikipedia learn about Punjab in their own language. So far, more than 1,900 article have been created by about 100 Wikipedians. The edit-a-thon will be also running during the conference so that the participants can also contribute to this activity.
Konkani language is the official language of the Indian state of Goa and is spoken along the western coast of India. In an interview, The Discoverer, an active contributor to the Konkani-language Wikipedia, explained how Wikipedia can unite native speakers who speak different variations of the same language and write in different scripts:
For Konkani Wikipedia to succeed, it is not just a 'good idea' for Konkani speakers writing in various scripts to work together on one Wikipedia, but it's also a necessity and a challenge at the same time. It's a necessity, because as things stand, no one script has a strong enough community to run a Wikipedia by themselves. It's a challenge because not everyone can read every script, and it's important for all the users of a Wikipedia to be able to understand all the content on that site.
The full interview is here.
A team of dedicated organizers who are primarily volunteers and represent several Wikimedia communities from India and three Wikimedia-affiliates—Wikimedia India, Punjabi Wikimedians and Centre for Internet and Society's Access to Knowledge program—are working together to make this event a success.
More details about the event could be found in the event page, and on Facebook and Twitter.
The views and opinions expressed on this page are those of their individual authors. Unless the opposite is explicitly stated, or unless the opposite may be reasonably inferred, CIS does not subscribe to these views and opinions which belong to their individual authors. CIS does not accept any responsibility, legal or otherwise, for the views and opinions of these individual authors. For an official statement from CIS on a particular issue, please contact us directly.