"Free-license Wings To Your Books" in Vijayawada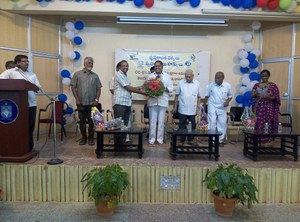 Writers being felicitated/ Image By Pavan Santhosh/ CC-BY-SA 4.0
"Free-license Wings To Your Books" event held at Andhra Loyola College, Vijayawada
Over the course of the last one year, CIS-A2K, with the help of Telugu Wikipedia community members, has been regularly conducting re-licensing events, scan-a-thons and digitization activities in and around Guntur and Vijayawada in Andhra Pradesh in order to raise awareness about free licensing books and content. Notable among these are the series of digitization and proofreading sprints conducted at Andhra Loyola College. The "Free-license Wings To Your Books" held on 8 February, 2017 was a culmination of these series of events in Vijayawada.  
 This event aimed to raise awareness about free-licensing in Andhra Loyola College, Vijayawada. The awareness session was followed by community felicitations to writers Kanuri Badarinadh, Fr. Poodota Jojayya and Fr. Job Sudarsan who have released some their content into CC-BY-SA. Fr. Job Sudarsan announced at the event that all his works shall be re-licensed into CC-BY-SA. Later, certificates were distributed to student Wikipedians who contributed to the digitization of 3,500 pages in Wikisource by participating in the digitization sprint that took place at the event. Notable attendees at the event were Mandali Buddha Prasad, Deputy Speaker of Andhra Pradesh, Samala Ramesh Babu, Editor, Nadustunna Charitra and Fr. G.A.P. Kishore, Principal, Andhra Loyola. 
The link to event page on meta can be found here.
The views and opinions expressed on this page are those of their individual authors. Unless the opposite is explicitly stated, or unless the opposite may be reasonably inferred, CIS does not subscribe to these views and opinions which belong to their individual authors. CIS does not accept any responsibility, legal or otherwise, for the views and opinions of these individual authors. For an official statement from CIS on a particular issue, please contact us directly.