Bargarh Manuscript Digitisation Project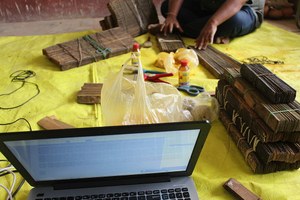 Bargarh Manuscript Digitisation/ Image By Sailesh Patnaik/ CC-BY-SA 4.0
The digitisation of temple manuscripts at the Dadhivamana Temple, Bargarh in Western Odisha followed by a workshop for the students of Imperial College took place between 11- 12 February, 2017.
Shri Dadhivamana Temple, also known as the Srikshetra(Puri) of Western Odisha is a 400-year-old temple in Bargarh, Odisha. The temple is among the most important religious sites in Western Odisha. The temple has a record room with 250 ancient palm leaf manuscripts in the Odia language, dating back to the 16th century. These palm leaf manuscripts tell the stories of the Mahabharata, Ramayana, Skanda Purana and the history of the temple itself.
Given the historical value of the temple, the temple administration and the Temple Trust have preserved the pothi(palm leaf manuscripts) with the help of various chemicals, including the indigenous usage of turmeric and camphor. The process of preservation of the manuscripts began a few years ago years with student volunteers from different colleges in Bhatli helping the temple administration by identifying and storing the manuscripts.
Minati Sahoo, a well known social activist in Bargarh and a few other journalists explained the importance of manuscript digitisation to the temple administration and took permission for digitising the manuscripts in the month of March. One of the pandas (temple priests), Pandit Shri Goura Chandra Ratha, released his book, Jay Shree Dadhibamana, under the Creative Commons 4.0 license. A three-day long digitisation camp will be organised in Bhatli for introducing the students to Wikipedia and the process of digitisation. The manuscripts will be digitised simultaneously during the workshop.
An orientation program was organised at Imperial College, Bargarh for introducing the students of the college to the digitisation process as well as to introduce the pothi digitisation which they would be partaking in. With over 60 participants, the workshop not only explained the idea of the global Wikimedia movement to them, but also taught them how they could use the digitisation skill for the preservation of language. This digitisation project will bring different manuscripts into Odia Wikipedia, while also helping to raise awareness about digitisation of language in western Odisha. After scanning the manuscripts, the Odia Wikipedia community will take help of the students for uploading, digitising and proofreading the same.
The views and opinions expressed on this page are those of their individual authors. Unless the opposite is explicitly stated, or unless the opposite may be reasonably inferred, CIS does not subscribe to these views and opinions which belong to their individual authors. CIS does not accept any responsibility, legal or otherwise, for the views and opinions of these individual authors. For an official statement from CIS on a particular issue, please contact us directly.