వంద రోజులు.. వంద వ్యాసాలు - తెలుగు వికీపీడియాలో మోత్కూరు యువకుని రికార్డు (100 Days...100 Articles: Wikipedian from Motkur created record in Telugu Wikipedia)
Pranay Raj Vangari of Motkur Padmashali colony created record in Telugu Wikipedia. "100 Days- 100 Articles" is already going on in many languages worldwide and Pranay Raj took challenge in Telugu Wikipedia, completed it successfully. Pranay is theatre scholor. He started first article in this challenge on september 8 and continued to write articles on every day till December 16 to complete 100 articles. Pranay said that two other Telugu Wikipedians (Pavan and Meena) successfully completed the challenge and explained that he inspired from them to complete it. Telangana state language & cultural department director Mamidi Harikrishna felicitated Pranay in His chamber on this occasion and appreciated for his work.
Clipping of the article in Andhra Jyoti: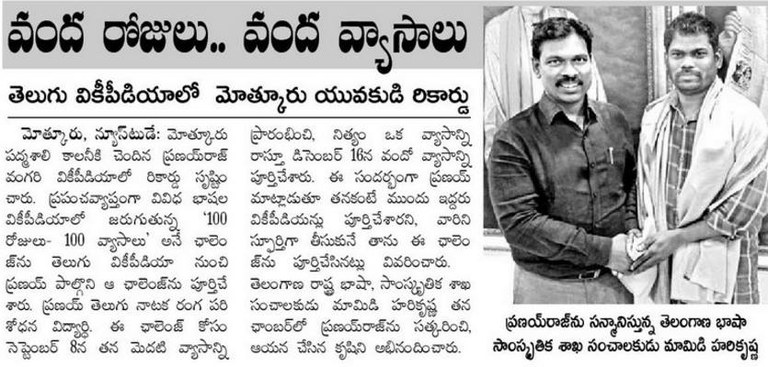 The views and opinions expressed on this page are those of their individual authors. Unless the opposite is explicitly stated, or unless the opposite may be reasonably inferred, CIS does not subscribe to these views and opinions which belong to their individual authors. CIS does not accept any responsibility, legal or otherwise, for the views and opinions of these individual authors. For an official statement from CIS on a particular issue, please contact us directly.